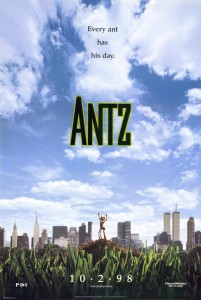 Release Date: 2nd October 1998
Antz takes the honour of being the most financially successful film in Woody Allen's career. Made at a time when the idea of animation changed radically, Allen starred as an ant with big ideas to change his own station. This family friendly film still holds up, with a classic hero's story and some pretty great moments.
Allen stars as Z, an Ant with typically Allen-esque hang-ups. a chance meeting with a rebellious princess (Sharon Stone – who first cameo'd in Stardust Memories<) sets of a series of events that will see him facing off against an evil Gene Hackman (who worked with Allen on Another Woman). Other big stars such as Sylvester Stallone (who appeared in Take the Money And Run), Christopher Walken (who appeared in Annie Hall) and Jennifer Lopez round out the cast.
'Antz' New Stories (show all)