Woody Allen is currently in France, directing his 2014 film. But not one to ever rest, he played a gig in Lyon last night with his regular jazz band – The Eddy Davis New Orleans Jazz Band – as part of Nuits de Fourvière. Some pictures appeared in Twitter, there's an official poster as well as a new interview with Allen in a French paper discussing music.
Allen spoke to Le Figaro about music in the lead up to the gig.
Here's some quotes from Allen about playing music (translated back from the French):
I practise every day, wherever I am. Even to be bad as I am, you have to play often! I can not read music, I have no ear, I did my inordinate love for jazz. Some play poker in their living room, my pleasure for me is to blow into my clarinet. I started performing in cabarets me 40 years ago. One day, someone suggested I go on tour in Europe. With my band, we do our best to produce an authentic New Orleans sound.
On how he discovered jazz, he revealed a french connection:
In the 1950s, I discovered the recording of a concert by Sidney Bechet in Antibes. From there, I became a fan of this music, I started to see many concerts as possible.
And on the French
France has always recognized American artists before the American public itself. In the United States, people like Orson Welles , Edgar Allan Poe, William Faulkner earned just their lives, as they were known at home. The French have always been very nice to me, and very loyal. In the United States, outside of college towns, I do not have so many fans, my films are treated as European productions.
Lots more at Le Figaro.
Here's that great poster.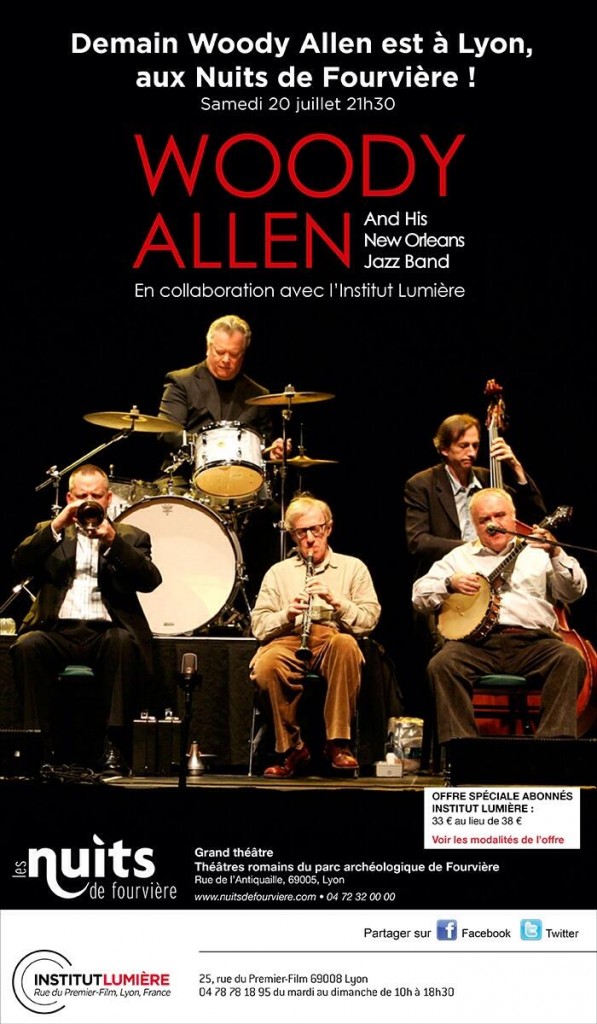 Instagram user sofim19 grabbed some video below.
http://instagram.com/p/cAEpBqhU4h/
Some images from the concert. It looks pretty fun, with a big stage in the outdoors.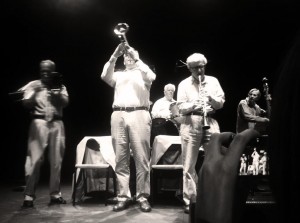 And a quick PS. Martha Stewart (@marthastewart) of all people bumped into Allen in France, and tweeted a photo about it. Oh technology.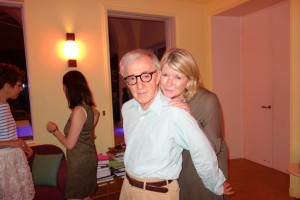 We assume Allen and his crew get back to work in the morning on the new film. As usual, if you see Allen and his team around France this summer, we would love to see pics.