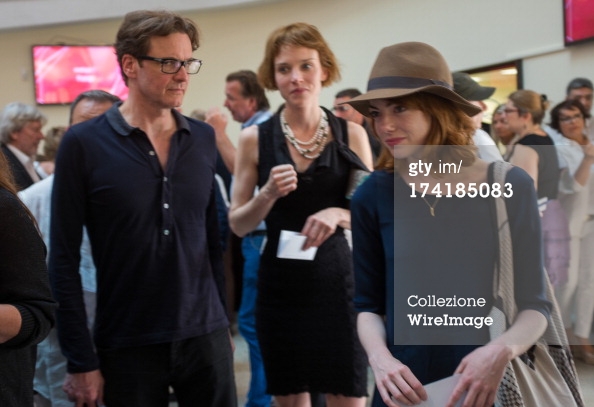 Woody Allen and the Eddy Davis New Orleans Jazz Band have just completed their second and last concert in France, in the town of Antibes. In the audience were the stars of Allen's newest film, currently in production in France – Colin Firth, Emma Stone (and her partner Andrew Garfield) and Erica Leerhsen.
Pretty cool as 48 hours ago, Stone left Garfield to hold the ball at Comic Con, but it looks like the new Spiderman managed to get a flight in to catch the show. Click on the images to make 'em bigger.
It's also pretty cool to see the cast out and about, and social media were quite excited to spot the stars at the concert.
Allen, Firth, Stone and Leerhsen are all in France making Allen's 2014 film until the end of August. We've already had one great pictures of filming in Nice earlier this month, and will continue to post everything we find!
UPDATED: More images have come out through pap sources. Those photos also show us that Jeremy Shamos and Hamish Linklater.