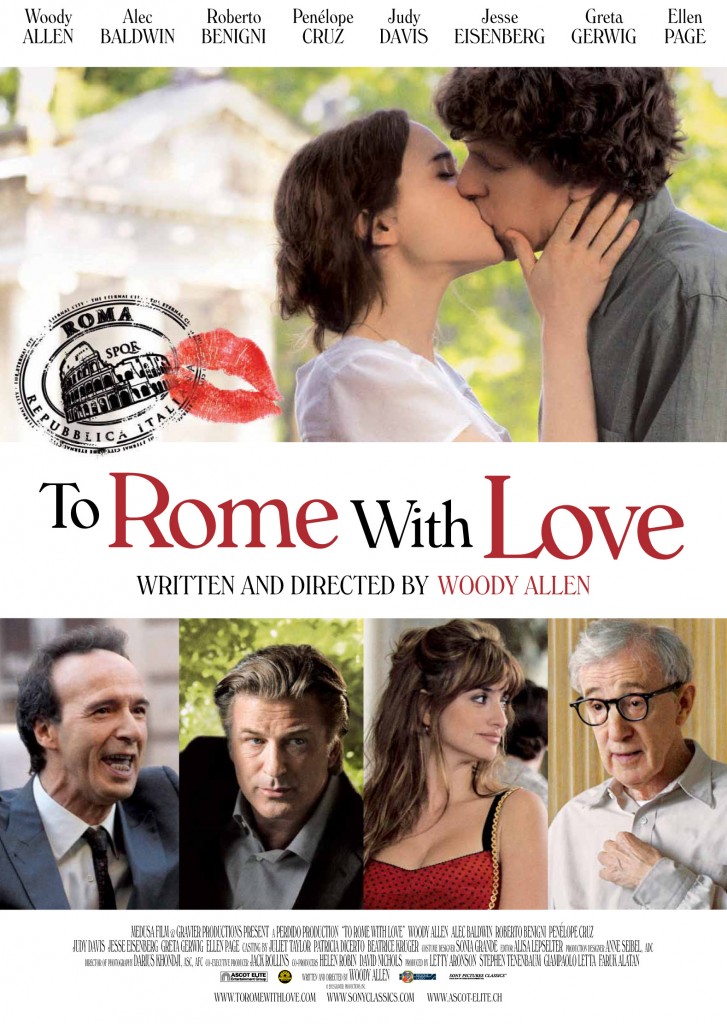 To Rome With Love premiered in the US this week, as part of the Los Angeles Film Festival. Before the actual 22nd June 2012 US release, many reviews from US critics are popping up on the web.
Italian reviews for To Rome With Love were mixed at best, whereas the US have been nicer (although still mixed). It makes change from earlier years when Allen's US appeal was waning but Europe loved him.
John Lopez from the Huffington Post liked it, but found it short of a classic.
Overall, To Rome With Love might not be an elegant grand masterpiece fit for a night at the opera, but it is an amusing bit of commedia dell'arte, a reliably fun street show you can stop to watch on your walk home while you digest your dinner.
Peter Debruge from the Chicago Tribune also liked it, but found it lacked substance.
This pleasantly diverting, none-too-strenuous arthouse excursion feels like a throwback to Allen's short-story anthologies, with the added pleasure of seeing a game cast play along.
A similar response came from Steven Zeitchik at the LA Times.
Though it is as serious as a sprinkling of Parmesan, the movie also distills seemingly every Allen preoccupation of the last three decades. Fidelity! Mortality! Sex! Celebrity!
Indiewire called in a 'minor' work.
At its best, it's innocuous, marginally funny, amiable, pleasant and cute, but at its worst, it's forgettable, harried and too long, with none of the stories are given the chance to develop into anything emotionally resonant.
Todd McCarthy of the Hollywood Reporter leads the charge for the negative reviews.
For the most part, the characters are too stupid and blind to their own follies to accept even in this farcical context. The best the fine actors assembled can hope for is to avoid embarrassment, which only a few manage to do.
Peter Travers at Rolling Stone sums up what is the general consensus – that it's fine.
To Rome With Love lacks the overarching theme of time and regret that distinguished Allen's last romantic comedy, but it has pleasures galore.
It is very early days for review aggregate scores. The film currently holds a 55/100 score on Metacritic and 51% on Rotten Tomatoes.
We will update this page with major reviews as they come in. And of course, we will have our own review.