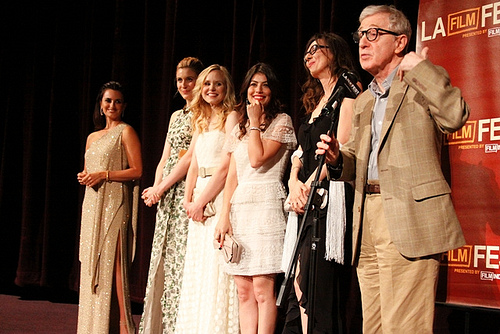 Woody Allen's latest film, To Rome In Love, had its US premiere this week at the 2012 Los Angeles Film Festival (L.A.F.F.). Woody Allen, as well as some of his co-stars, were in attendance.
Allen introduced the first screening at the Regal Theatre in LA. He was joined by some of the female members of the cast – Greta Gerwig, Alison Pill, Allesandra Mastronardi, Simona Caparrini and Penelope Cruz (Vicky Cristina Barcelona).
He was reliable as ever with his self depreciation and his quick wit. "If you like the picture, I'm thrilled," he said before the film screened. "If you hate it and think it was a waste of time coming, don't let me know because I get depressed too easily."
The man just won't cut himself a break. "I had a wonderful time making this picture in Rome," he followed. "That does not mean you will enjoy it."
Even when he made compliments, he took it out on himself. "I would have played Jesse's role if I was 50 years younger, but there's nothing I can do about that."
The Hollywood Reporter also managed to ask some of the female actors about working with Woody. Most gushing was Greta Gerwig, who said the filming was "my favorite thing that's ever happened to me in my life."
The L.A.F.F has a gallery of the opening night on their site.
To Rome With Love opens 22nd June 2012 in the US, followed by other markets (not soon enough). We will also round up reviews of To Rome With Love from US critics.