News bits – our twice monthly round up of Woody Allen bits around the web. Kind of a quite two weeks – maybe it was the holiday, maybe it was everything else going on in Allen-land!
Jeff Daniels has been on the press circuit, promoting season 2 of 'The Newsroom'. But the subject of Woody Allen came up in an interview with Piers Morgan on CNN. Daniels of course starred in The Purple Rose Of Cairo, which, like the new season of The Newsroom, was extensively reshot.
I go back to "Purple Rose in Cairo" with Woody Allen. And Woody, I'll bet will re-shot 40 percent of it. That was back in the days when Orion Studio would give them money to do that and Woody would look at I, and go, you know, I don't think so. And we'd come in and we'd shot it. So for me, it was like, all right, well, what can I do to help you, Aaron [Sorkin]? What can I do to support you and we get another shot at it? I didn't care.
Famously, Michael Keaton was originally cast and shot in 'The Purple Rose Of Cairo', and was replaced by Daniels. Which also led to the name of Daniel's non profit theatre – The Purple Rose Theatre Company.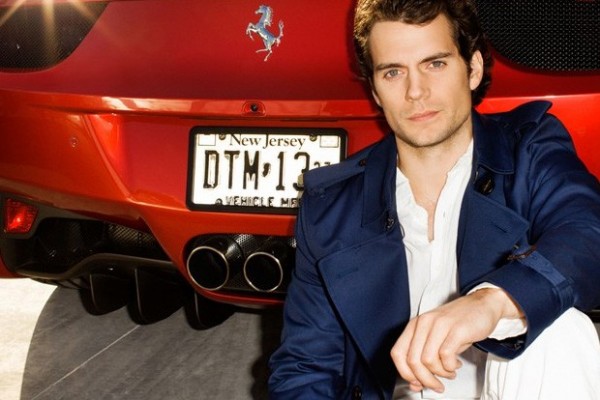 The new Superman Henry Cavill has been gracing magazine covers and billboards the world over. Before all that he starred in Woody Allen's Whatever Works from 2009. In a new interview, he remembers that experience.
Translated from El Hombre by Henry Cavill News
Many forget that you also worked with Woody Allen in Whatever Works. How was that experience like?

It was fantastic. Had heard many scary stories about him before filming. I was naturally nervous, but I discovered that it is actually the opposite. He communicates his ideas in a very exact and accurate to the actors. It was very pleasant to work with. His style was also very different, so I had to leave my comfort zone. He tends to shoot in a hyper-realistic manner: the dialogues are very colloquial and instinctive. In a scene of four pages usually you would sweat, because if you mess up your speech, you'll have to do the whole scene again. With Woody, no. You can move on from that line of reasoning within the script, of course. So it was definitely a different experience and very enjoyable.

He is admittedly reluctant to talk with his actors much, preferring to let them follow their own instincts. What kind of directions did Woody give you?

I remember he always told me before filming: "I know there's a lot of dialogue in this scene, so if you forget your lines, improvise, as long as you go in the same direction." It's great. It usually gives you freedom, since the intention is to stay realistic. I think that's what he's brilliant, to be a window into the real life. So yes, it allows you to be free.

Photgrapher Phillippe Antonello was the onset photograoher for To Rome With Love. An exhibition of his works will be on display from til Sep 30 at the Laboratory of Contemporary Arts in Teramo. The invite features a wonderfull bizarre shot of Allen.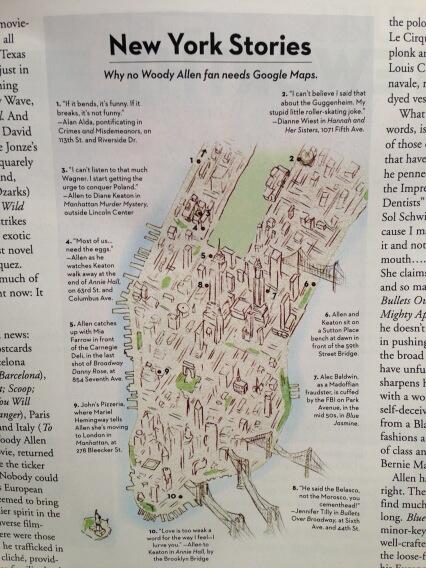 Departures Magazine published a map of Woody Allen places in NYC. Sites from films such as Hannah And Her Sisters, Crimes And Misdemeanors, Broadway Danny Rose and much more.
Movies Under a Minute, who review films in the way their title suggests, has tackled 'Hannah And Her Sisters'.
Consequence Of Sound has covered 10 actors turned musicians. Woody Allen is at number 3, and Allen alumni Jeff Daniels (Purple Rose Of Cairo), Juliette Lewis (Husbands And Wives) round out the list.
Paste Magazine has listed 10 Great Food Moments in Movies. Number 2 is the lobster scene in Annie Hall. Others scenes on the list include Allen alumni Julia Roberts (Everyone Says I Love You), Hugh Grant (Small Time Crooks) and Gene Wilder (Everything You Always Wanted To Know About Sex)
20 Most Relatable Woody Allen lines, thanks to Buzzfeed
Benjamin Sehl did an AMAZING piece in tribute to Woody Allen. Can you spot all the references?
@ziropicturesink took this shot off great graffiti in Selville, Spain.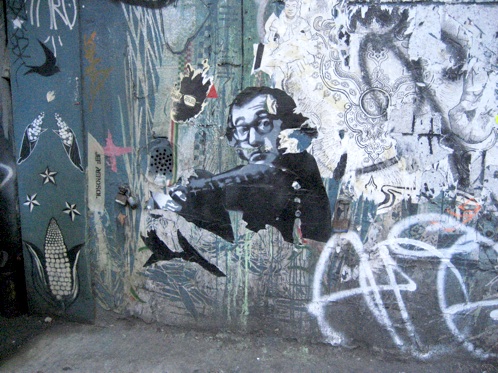 More graffiti, this time in NYC. On Rivington Street, between Norfolk and Suffolk streets, on the Lower East Side. Thanks to Global Graphica.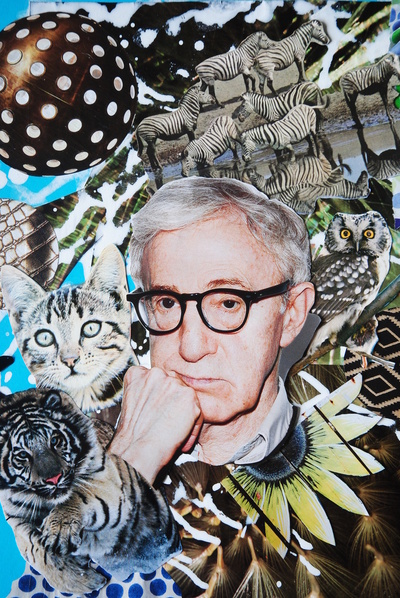 Kind of crazy Woody Allen print by John Turck on sale on Society 6.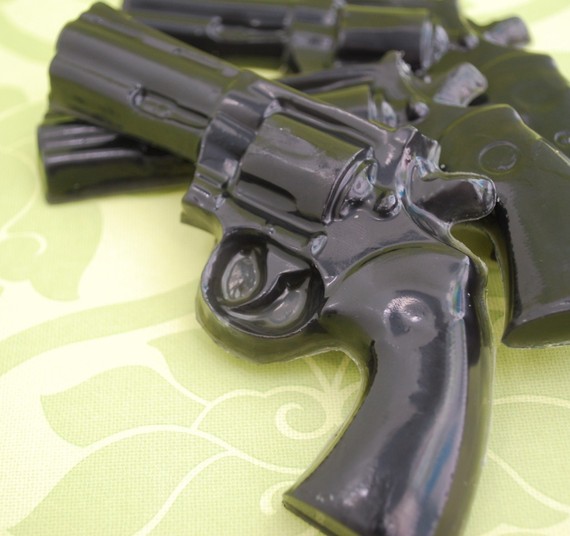 Finally, someone actually made the gun soap, a la Take the Money And Run. Find it on Etsy