With To Rome With Love opening this week in the US, the publicity has kicked into a high gear. Woody Allen has been granting key interviews with major press, and even made public appearances to launch the new movie.
Allen appeared at the L.A. Film Festival, and followed it up with an appearance in New York's Park Regency Hotel. His female cast members that joined him in L.A. (Penelope Cruz, Greta Gerwig and Alessandra Mastronardi), along with Ellen Page and Alec Baldwin.
Moviefone has collected some of the best quotes from the press conference. Woody Allen even makes a comment on the new digital world. Very Aware also covered the press conference with more complete quotes.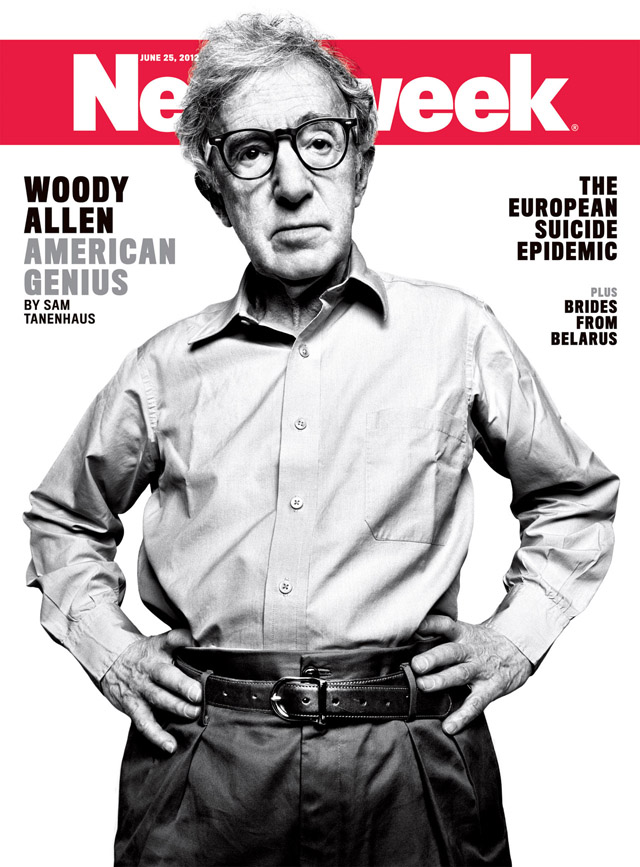 On the newstands, Newsweek has paid tribute to Woody Allen with their latest cover. You can also read the full, lengthy feature by Sam Tanenhaus online.
Another good new story has been syndicated to various publications including the Sydney Morning Herald USA Today and others. In it, Allen discusses his lack of retirement plans, and a key Easter Egg in the movie for fans of Stardust Memories.
Another piece also directly quotes the themes of To Rome With Love. In the film, the value of celebrity is questioned. Woody Allen gives his own views in a piece to the Press Association.
Associated Press got some time with Woody Allen. They asked him what he would add to the list of things he's grateful for (a la the end of Manhattan). Find out at CTV.
Possibly the best piece of all comes from Rachel Dodes and appeared in the Wall Street Journal. In the article, he reveals he actually has an iPhone, as well as many other great tidbits.
Finally, the New York Times has Woody Allen discussing some of his favourites films from Italian cinema.
There's been more than we can cover here. But it's great to see Woody Allen out and talking about his films, even if it's self depreciating. Hopefully more press will hit once the movie is finally out.