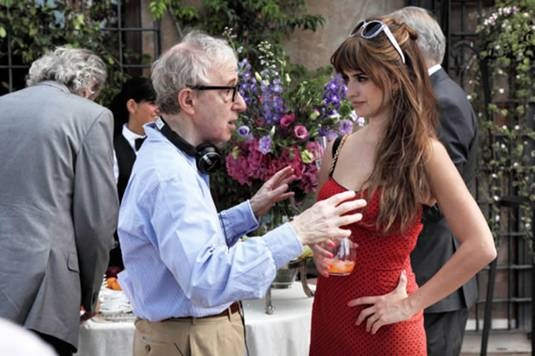 To Rome With Love opens in the US this Friday. Woody Allen has been speaking to very select press, but so has many of the films stars. We have collected some of our favourites.
Ellen Page spoke about her nervousness in working with Woody Allen in AM New York.
The experience of being on a Woody Allen set and being directed by this cinematic icon and cultural icon … was kind of shocking," Page says. "I was profoundly nervous and intimidated going into it.
Penelope Cruz tells Metromix of her love of Woody Allen's company, and working with him for a second time (the first being Vicky Cristina Barcelona).
I would love to work with him 20 times. I'm fascinated by his personality. Even a day of press, which is not my favorite part of this job, he makes it so interesting and so fun," she says. "I love his sense of humor. He only types on his typewriter. Sometimes I've gotten e-mails from him and I say, wait a moment, were they fakes? And he said, 'No, no, I dictate to my assistant.' I love that he's doing things his way.
Another actor making a return to Woody Allen is Alec Baldwin, who appeared in Alice. He recalls his experience on that film and again, had nothing but praise for Woody in an interview with Salon.
He's one of the last people on Earth where you come for the privilege of working with them, exclusively. He really lives in an island all by himself in terms of his relationship to actors.
Jesse Eisenberg spoke about Woody Allen to Moviefone. Along with describing the process, he also told them about a Woody Allen film he felt was underrated.
The last movie that he made that I loved the most was that movie that he was in, "Scoop," which is not, I guess, thought of as his best in the last several years. But to me, just to be able to watch him was like the most thrilling experience… I wish I was in scenes with him, that would have been nuts. Although, I probably wouldn't have been able to work.
Great Gerwig spoke to Vanity Fair about how it was to be surrounded by such greats.
There were lots of funny things that happened, but I would say, more than anything, that there was a moment when we were filming when I looked around and saw Ellen Page, Alec Baldwin, Jesse Eisenberg, and Woody Allen came up to direct us. And I remember thinking that everybody here has been nominated for an Oscar. It was just one of those pinch-yourself moments where maybe you don't feel like you belong.
Seems like you can't escape from being asked about Woody Allen. There's plenty more out there, and we will add any more favourites to this page.