Our twice monthly round up of Woody Allen news bits from around the web.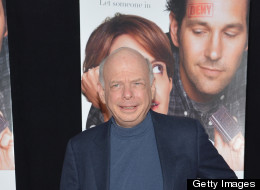 Wallace Shawn has appeared in over 150 films, and his latest is 'Admission' with Tina Fey. He has also appeared in many of Allen's films, but none more famous than in Manhattan, where he made a cameo as Diane Keaton's ex boyfriend. In an interview with the Huffington Post, he reflected on that role.
What I remember is that was like a dream. I think I was supposed to come in during the afternoon and, as I remember it, they called and woke me up and said, "We've changed the schedule, can you come in right now?" It was literally like a dream, because all of a sudden I was there with these people who I had seen and loved. I was interacting with them. The whole thing took about an hour, and then I was back on the street again. It seemed almost impossible. It just couldn't be true! It was Diane Keaton and Woody Allen: I was talking with them and then I was gone. It was hard to feel that it even occurred. I'm just grateful. Not only has working with Woody been a lovely part of my life, but I wouldn't be doing this if it hadn't been for that movie.
Huffington Post has much more with Shawn.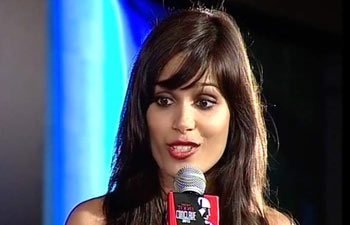 Freida Pinto starred in Woody Allen's 2010 film You Will Meet A Tall Dark Stranger. In a recent appearance at the India Today Concalve in New Dehli, she discussed how working with Allen made her aware of her identity beyond her ethnicity. She quoted the line that Allen said to her.
The world is a small place. Why would I focus on race when I can capture human emotion?
There's more over at India Today.
Sam Mendes, coming off a great year with the James Bond film 'Skyfall', recently won the 'Inspiration Award' at the Jameson Empire Awards 2013. In his acceptance speech, he listed some of his inspirations in film, including Woody Allen and the fireworks in the start of Manhattan. Watch the whole thing below.
Why Does It Exist? podcast features Picking Up the Pieces, the 2000 film by Alfonso Arau, starring Woody Allen. The film is widely regarded as a bit of a trainwreck. 'Why Does It Exist?' has covered many more obscure trainwrecks and like the title suggested, didn't even know existed!
Adam Leon is the director of graffiti adventure 'Gimme The Loot'. But before that he worked as a PA on two Woody Allen films – Hollywood Ending and Melinda and Melinda. He remembered what he learnt from Woody with Crave Online.
We hear a lot about Woody Allen's process but we don't hear a lot about his editing. What sort of insight did you get into that?

What I think I really was able to take from it are these two things: One is this kind of no mercy for what you've shot. If it's not working, no sentimentality for that, because at that point it's really about constructing the movie for an audience. So if a pretty shot isn't going to help the audience, you don't put it in and you don't think twice about it. I think that similarly, they kind of work together, and I see people when they edit their movies not take this approach, but this idea of taking a production-like approach to editing. I think that Woody takes that approach to every phase of the film.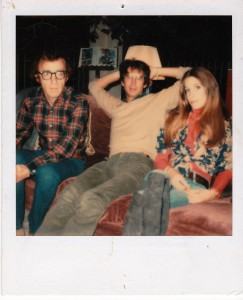 Not new, but new to us. This Google feed has a great photo, from some unknown time in the 1970s. The photo is owned by actor Anthony Perkins, best known as Norman Bates in Alfred Hitchcock's 'Psycho'. That's him in the middle, with Allen to his right. To his left is actress Lucy Saroyan.
More great vintage photos here – including shots of Stephen Sondheim and Susan Sarandon.
The internet went a little list crazy this week. Here's some that involve Woody Allen.
SFGate has listed some Odd Romantic Parings in film. Allen makes the list twice – once Curse Of the Jade Scorpion (with Helen Hunt and Charlize Theron) and once with 'Manhattan' with Mariel Hemingway.
Check the full list on SFGate, including entries featuring Allen alumni Diane Keaton and Hugh Jackman.
Moviefone has also included Allen on their latest list, this one is about the best film Illusionists. On their list is The Great Splendini from Scoop, played by Woody Allen. They also included Le Chiffre, played by Orson Welles, in Casino Royale, written by Allen.
The full list is over at Moviefone, featuring performances by Allen alumni Hugh Jackman (again), Edward Norton (Everyone Says I Love You), John Malkovich (Shadows And Fog), Max Von Sydow (Hannah And Her Sisters) and Anthony Hopkins (You Will Meet A Tall Dark Stranger).
Flavourwire has asked various actors and directors about the challenges of shooting a sex scene. This quote from Woody Allen is one of those collected in their list.
If you have no limits, it does become more difficult because there are so many options. Years ago, you had no options, so you had to come up with a few sophisticated ways to show sex. Now you can virtually do what you want to do, and it becomes more of an esthetic decision, and it becomes tougher… Because you can't hide behind the fact that they'll censor you, and you've got to come up with something that is ingenious or esthetically pleasing, and you really have no limits to what you want to show.
A second Flavourwire list – this time it's Best Break-Up Lines. They included two from Allen – the 'dead shark' break up between Alvy and Annie in Annie Hall, and the 'immature' scene from Bananas.
More break up lines featuring the works of Jesse Eisenberg (To Rome With Love), John Cusack (Bullets Over Broadway, Shadows And Fog), John Malkovich (Shadows And Fog), Natalie Portman (Everyone Says I Love You) and more.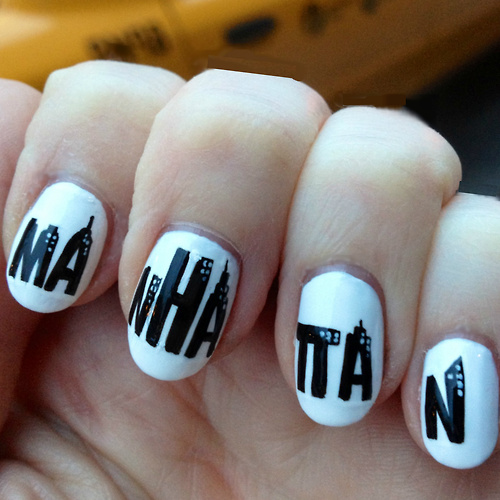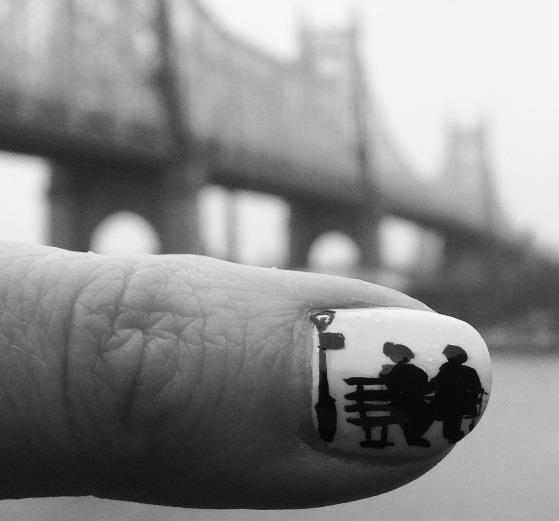 Here's some wonderful Woody Allen nail art. You can get them at Miss Pop Nails in Manhattan.
'The Popular Face Of New York' is a very special exhibition taking place at the Bottleneck Gallery in Brooklyn. It features new illustrations of New York depucted in film. Included is this great piece featuring Allen.
411 Posters has many more images featured from the exhibition.
Marcelo Badari's wonderful Allen cariculture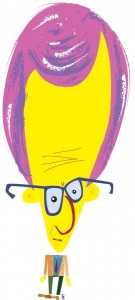 And one by the artist Echoes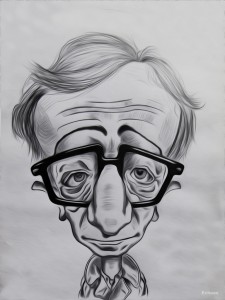 WAToday did a feature on Hôtel Le Bristol Paris, the hotel that features in Midnight In Paris.
Finally, a bit of fun. Recently shared on Twitter although it's almost a year old now. Woody Allen in 'The Matrix'.