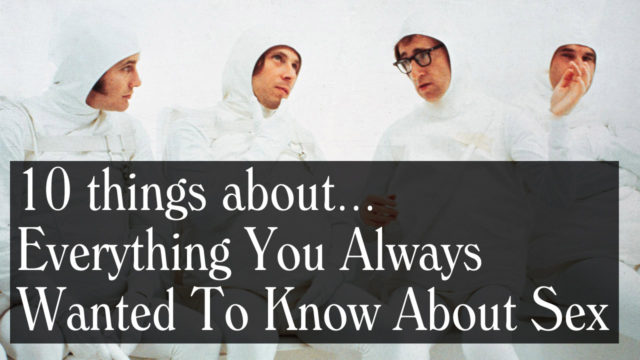 10 Things About… each of those Woody Allen films. We've been making our way through Allen's film for our book series – The Watcher's Guides. And we are making video essays with some of the most interesting and fun facts about all of them.
Our third in our new video essay series is the third film written and directed by Woody Allen. It's Everything You Always Wanted To Know About Sex, the bawdy anthology film that was a big early success for Allen.
But how well do you know the film? Check your trivia against our video.
Find out more on:
1. Allen's reasons for appearing in Play It Again, Sam
2. The original book
3. Does Woody Allen speak Italian?
4. Who else was considered for the sexy couple.
5. John Carradine's horror roots
6. Lou Jacobi's earlier job for Woody Allen.
7. The real game show for What's My Perversion.
8. The strange cameo by Sidney Lumet's dad.
9. The famous deleted 'spider' scene.
10. Allen's first use of Cole Porter, and Jazz.
This is our third one, with previous ones on Bananas and Take The Money And Run. Only 43 to go! Make sure to subscribe to our YouTube channel and like the videos!