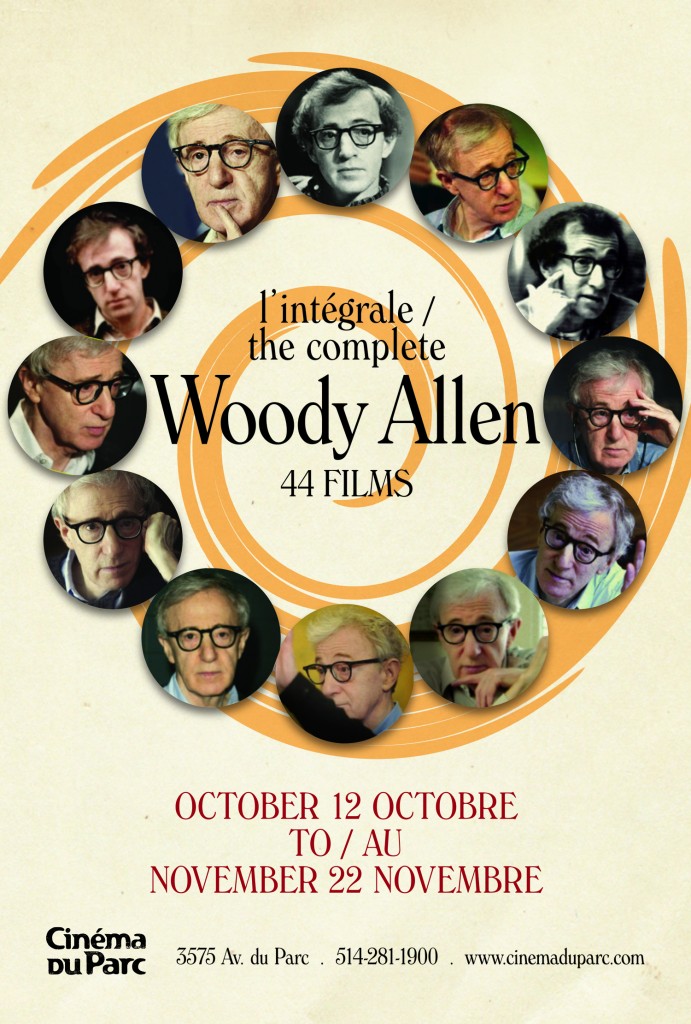 "Who needs a festival of my old films? It's ridiculous."
So said Sandy Bates, Woody Allen's character from Stardust Memories. We don't usually write up cinema showings of old Allen films – so many are happening at any given week, somewhere in the world. But we came across what Cinema Du Parc in Montreal are doing and had to give it a plug.
From October 12th til November 22nd 2012, this festival of Woody Allen films will contain EVERY WOODY ALLEN FILM. That's right, everything from Take the Money And Run through to To Rome With Love. It also takes in non Allen directed efforts such as Play It Again, Sam and The Front. 'Oedipus Wrecks', Woody Allen's part of the anthology film New York Stories, will screen before Alice.
44 films in all – including some that never get any love, such as Small Time Crooks or September. Of course there are the classics – Annie Hall, Manhattan, Crimes And Misdemeanors, and more. Being Canada, all films will be in the original English and have French subtitles.
If you're lucky enough to live (or be near Montreal, Quebec) and the Cinema Du Parc, we highly suggest you go down and support this.
Check out Cinema Du Parc's site for their location, the full dates and times, including a synopsis and trailers for most films.
UPDATED! Raphaël J. Dostie, who runs the press for Cinema Du Parc, answered some of our questions!
All 44 Woody Allen films. Most cinemas paying tribute just pick his 4 or so best and call it a day. Why set yourselves the challenge of showing it all?
For us, it seemed inevitable to show ALL of his films since nothing had been done in that field in Montreal or anywhere else we knew. We want to offer the viewers a chance to really immerse themselves into a director's vision and be able to fully grasp his intentions throughout all of his career. Each of them has a specific quality that echoes the other. Watching many Woody Allen films in a row makes you feel part of an intimate universe.
You run many festivals at your cinema, but have you ever run a 44 film retrospective before? What are the challenges of running such a long season of films?
We've never had a 44 film retrospective in our cinema. We've had 25 Truffaut films, 30 Hitchcock pictures and and 24 Kurosawa films, but Woody will be the longest. The real challenge is to devote one room in our cinema for 6 weeks and make sure the public will follow. We've had to reduce the amount of new films to make sure there was time enough for the retrospective.
By doing every film, you've dug out some obscure films that probably have not been seen on the big screen since release. Of the lesser known films, which ones are you most looking forward to?
We are looking forward to show THE FRONT, a rarity that should please anyone aware of his persona in political context, and OEDIPUS WRECKS as a complement since the film is, again, rarely shown and extremely hard to find here in Canada.
Finally, opinion seems to be split down the middle whether Annie Hall or Manhattan is Allen's best. Which one's selling better – and can you pick a favourite between the two?
My favorite would be Manhattan. Better cinematography. Better opening. But that's just really personnal.