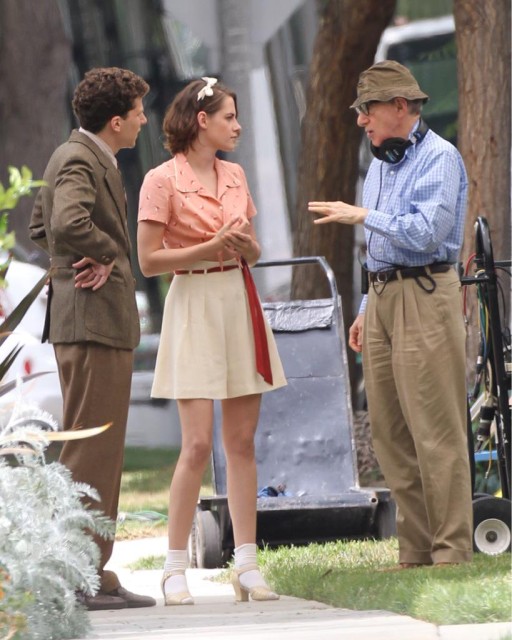 The 2016 film written and directed by Woody Allen is currently in production in Los Angeles. We now have our first look at Kristen Stewart, alongside Jesse Eisenberg.
Stewart looks fantastic in her vintage outfit. Along with scenes with Eisenberg, Stewart also filmed a scene in a very cool vintage car. Anyway, here's some of the billion posts on social media about it (Kristen Stewart fans on social media are simply amazing by the way).
No sign of any of the other stars, although the location looks quite public. Eisenberg has been the only one on set every day. Some are saying this was filmed in Pasadena, some say Beverly Hills.
The car number plates say California. So we can probably safely assume now that this part of the film is actually set in California as well.
One extra also tweeted her costume and talked about working with Bruce Willis.
https://twitter.com/mroserocks/status/634871591252324352
Not any revealing details. Have Eisenberg and Stewart been paired as romantic leads again? Does look like it.
Walking my dog today we strolled upon Woody Allen directing his latest film "WAS"… pic.twitter.com/OO1y8CsCUq

— Dyan Traynor (@dyantraynor) August 22, 2015
Follow all our 2016 film coverage.