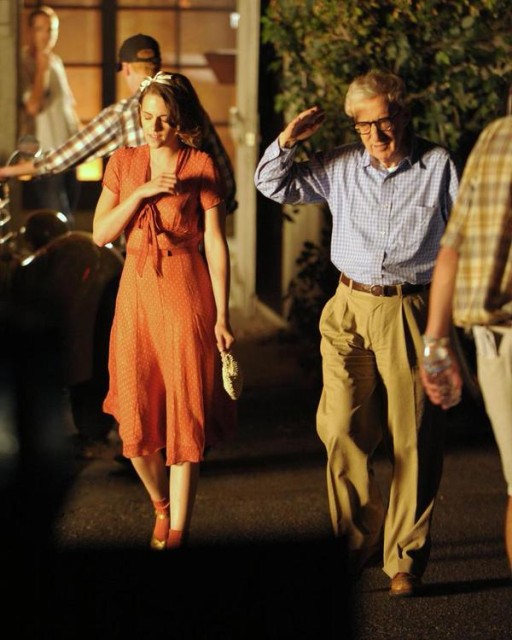 Woody Allen is wrapping up the first week of production on his 2016 film. Today, we have more photos of Kristen Stewart on a night shoot, some casting info and more.
Here is Stewart at night, apparently in West Hollywood. No Jesse Eisenberg, so she definitely has a storyline all her own.
Eisenberg was again snapped with Bruce Willis. Is that Paul Schneider in the middle?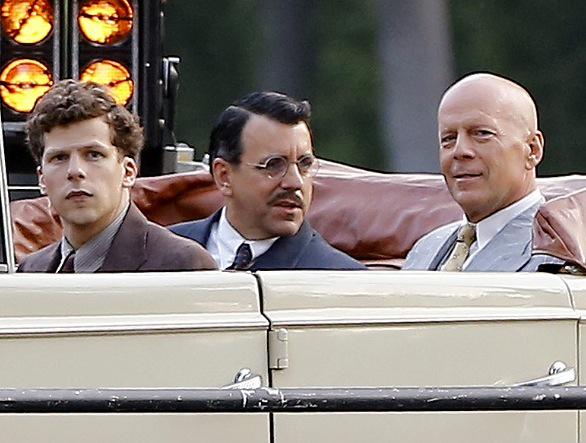 We also heard a bit more about a scene that took place earlier in the week.
@Cary0605 greetings from Hollywood! The scene I was in was a 1930's 'movie star' party. It was amazing! I was honored to be a part of it:)

— Madison Rose (@realmadisonrose) August 22, 2015
So we now have a 1930s film set in LA that has to do with movie stars and the mob? Wow.
Finally, Judy Davis has been added to the film's IMDB page. Davis was mentioned by Allen in July but has not been officially announced. Perhaps she has a very small role, but it seems like the IMDB listing is a mistake. Davis, if she is in the film, will be making her sixth appearance in an Allen film (her first was Alice, her last was To Rome With Love).