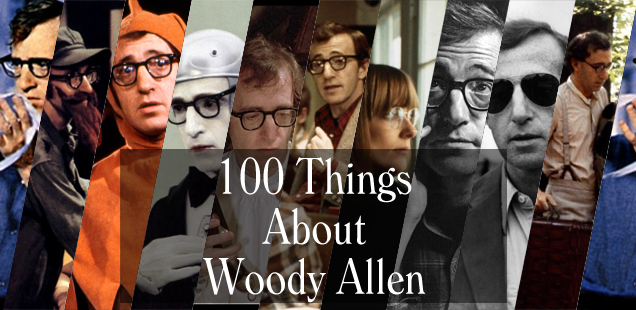 Regular visitors of the site will know that we have started our first web video series – "10 Things About…". We're going through all 46 (to date) Woody Allen films, from Take The Money And Run to Café Society, and we'll probably have to tackle the 2017 film by the time we get there. We've made 10, roughly on a weekly basis, which means we now have 100 things about Woody Allen's first ten films.
Discover trivia about every film, from locations, music, deleted scenes, references, awards and much more. There's that time Dustin Hoffman played a trick on someone on set. Or Sidney Lumet's dad playing a pervert. Stuff like that.
Here's the series. It covers 1969-1982, when Allen was finding his feet and made his first masterpieces.
10. A Midsummer Night's Sex Comedy (1982)
9. Stardust Memories (1980)
8. Manhattan (1979)
7. Interiors (1978)
6. Annie Hall (1977)
5. Love And Death (1975)
4. Sleeper (1973)
3. Everything You Always Wanted to Know About Sex* (*But Were Afraid to Ask) (1972)
2. Bananas (1971)
1. Take the Money and Run (1969)
For us, Zelig next, and 200….