Diane Keaton is one of the greats, and it was confirmed yet again tonight when she was the latest recipient of the AFI Lifetime Achievement Award. The honour comes with a lavish dinner event in Los Angeles, and Woody Allen was a surprise presenter.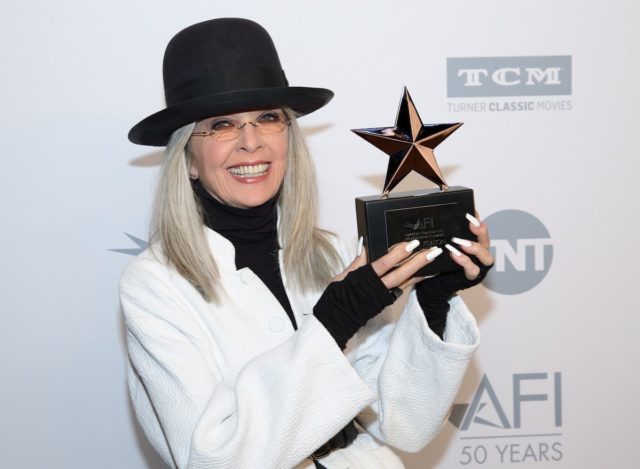 Keaton's had so many great films, but her career will always be tied to Woody. Woody took to the stage to the surprise of the crowd, and was the one to introduce Keaton before she made her speech. Allen told lots of jokes at Keaton's expense, the way that old friends do.
Woody Allen is roasting Diane Keaton to many laughs. #afi pic.twitter.com/pRC7eIG1iu

— Rebecca Ford (@Beccamford) June 9, 2017
Keaton, visibly moved by the event, threw out her speech when it came time for her to speak. She sang Seems Like Old Times, the song she sang in Annie Hall, released 40 years ago (and earned her the Best Actress Oscar).
Come for the tribute, stay for @Diane_Keaton singing "sweet" solo. (Who else could pull this off, ps?) #AFILife pic.twitter.com/Wy5rpdGQLS

— Chris Gardner (@chrissgardner) June 9, 2017
Coincidentally, Keaton presented Allen with the Golden Globes version, the Cecille B Demille Award, in 2014 and also sang. They last appeared on screen together in Manhattan Murder Mystery (1993).
The night was full of surprises and guests, including Al Pacino, Warren Beatty and more. There was plenty of Allen alumni – Meryl Streep (Manhattan), Rachel McAdams (Midnight In Paris), Emma Stone (Magic In The Moonlight, Irrational Man), Jackie Weaver (Magic In The Moonlight) and more.
The whole ceremony will air on 15th June on US channel TNT. Not sure if it might air internationally, but hopefully the clips will go up online.