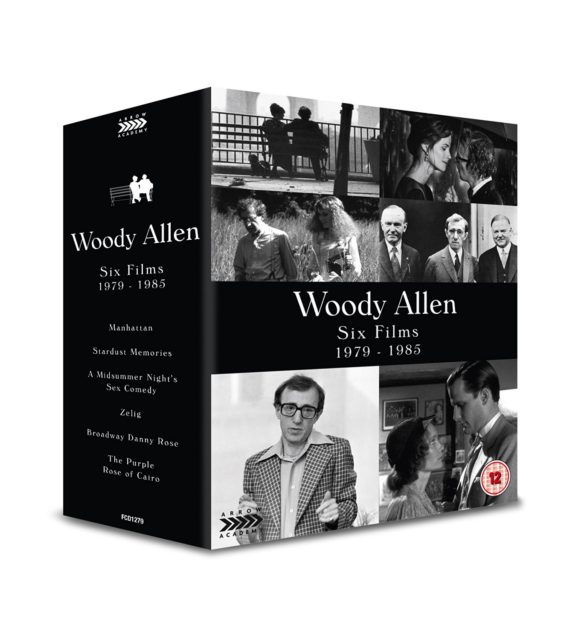 Arrow Academy recently acquired the Blu-Ray rights to Woody Allen's catalogue from 1971 to 1991. They have been rolling out both standalone releases and box sets for 19 films. We now have details and artwork for the second box set.
The second box set is called Six Films 1979-1985. It will include the films
– Manhattan
– Stardust Memories
– A Midsummer Night's Sex Comedy
– Zelig
– Broadway Danny Rose
– The Purple Rose Of Cairo
The set will be released on 12th December 2016, and you can pre-order on Amazon UK. The set will come with a book containing archival writing. No other special features as far as we can tell. The Blu-Rays are Region B.
Which means Arrow have a very packed schedule. They are also doing standalone Blu-Ray releases for each title (excluding Annie Hall and Manhattan). The complete schedule is:
26th September
– Bananas
– Everything You Always Wanted To Know About Sex
– Six Films 1971-1978 Box Set
3rd October
– Sleeper
– Love And Death
14th November
– Interiors
12th December
– Six Films 1979-1985 Box Set
– Stardust Memories
– A Midsummer Night's Sex Comedy
– Zelig
One more box set will follow, as well as another 10 more standalone films. No doubt they will roll out through the first few months of 2017.
This tight schedule is a sharp contrast to the US, where Twilight Time have been releasing two or three titles a year for several years. These are shaping up to be the best way to own a physical copy of Allen's early decades of work.
Artwork for all the new standalones below.
Once again, get them all at Amazon.