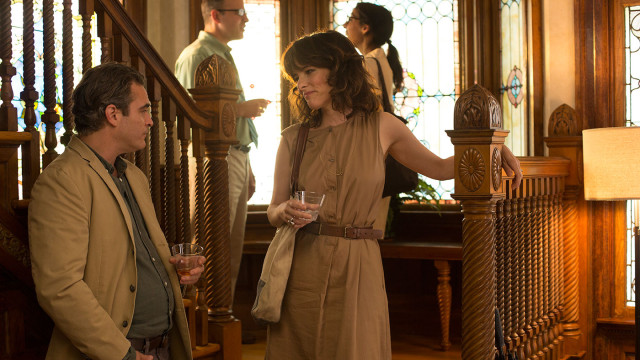 Parker Posey is one of the stars of Woody Allen's latest film, Irrational Man. She has now signed on for Allen's 2016 film, meaning there are sure to be people calling her Allen's latest muse. She's been doing a lot of press, and we thought it was worth rounding up the best of her comments about Allen, 'Irrational Man' and more.
One of the best articles came from The Daily Beast.
On how long it took for her to work with Allen.
They first met 20 years ago when Allen was making Bullets Over Broadway. "Well, you know, I suffered over the years with bitterness," she says, unleashing a bit of a cackle. "I would reluctantly see his other films and watch with bitterness and jealousy. But I always thought I'd work with him."

That hunch notwithstanding, when Posey got the call that she had been cast in Irrational Man, she burst into tears. "It wasn't, 'Oh my god, I get to work with Woody Allen,'" she says. It was more profound than that. Her casting was reaffirming.
On independent cinema in the US.
"I feel like, you know, the independent film way of working is something that was in my bones," she says. "It's like being a part of a punk band but no one's singing punk rock anymore. Only a few bands are able to play, and Woody Allen is one of them. That's why I cried. It was a relief."
Woody Allen "made sense" to Posey, says the USA Today.
"I always felt like I belonged in his movies, so it made sense to me. Especially having worked with independent directors, it's like, 'That's the last man standing. He's still doing it.' "
With SFWeekly, she talked about her take on the themes in 'Irrational Man'.
"I think it raises an issue of the culture," the actress says. "I think you're right on about that. In this time, does life have meaning, if it's just something on an iPhone, an image that we just scroll past? We're in those times where I think suicide is more popular than it's ever been. We're getting more and more disconnected from each other and the here and now, and interacting with one another. I have that hope that it stirs this kind of dialogue in the culture. So yeah, that was exciting to be a part of that."
With the ABC, she also revealed that she met Allen around the time of Shadows And Fog.
I met him 20 years ago for Bullets Over Broadway and Shadows, and there wasn't a part that was right for me all these years.
Posey and co-star Jamie Blackley stopped by Huffington Post live for an interview. It's a great, lengthy conversation with both. Parker also compares Allen to Nora Ephron. Parker starred in Ephron's 'You've Got Mail'.
And now, a big dump of recent videos with Posey.
And an audio interview
Phew! Posey has certainly been a trooper when it comes to promo. But she seems to really enjoy being in the spotlight and has something to say.
We'd be remiss if we didn't point out the best interview with Posey in recent weeks was her appearance on WTF with Marc Maron. It is a typically revealing and fascinating interview.
'Irrational Man' is out now in NY and LA, with more cities to follow in the coming weeks.