Woody Allen is currently in New York, directing his 2016 Film. There have not been any big public sightings in the last few days, but lots of bits and pieces that we have collected together.
We definitely know there was a big nightclub scene shot. Stephane Celerier, the chairman of Woody Allen's French film distributor Mars Distribution, visited the set and tweeted a photo. He confirmed Blake Lively being on set for the first time.
In Brooklyn, on the set of the new Woody Allen's movie. Today is the first day of Blake Lively. She s so beautiful pic.twitter.com/6nNBMl6ssM

— Stephane Celerier (@stephanecel) September 15, 2015
Conal Fowkes has done some recording for the film. Fowkes is the piano player in Allen's jazz band, who play Mondays at the Carlyle Hotel. It is unclear if he appears – more likely he was recording a performance so the right music could be used in the club scenes. He mentions Jesse Eisenberg and Kristen Stewart.
Great recording session yesterday! Recording music for the new Woody Allen film. Can't wait to see it! #JesseEisenberg #KristenStewart

— Conal Fowkes (@conalfowkes) September 15, 2015
Fowkes has recorded for Allen before, for Midnight In Paris, Blue Jasmine and Magic In the Moonlight.
The scene involved a lot of extras, and there were some photos of them across social media.
https://instagram.com/p/7nkwKqpg-j/
NewYear hats for the new Woody Allen Summer Project. . https://t.co/wbOD8YDzVH pic.twitter.com/ztvkODVhk6

— Starbucksaddict (@DogbluffGirl) September 16, 2015
That last tweet reveals that the club scene is a New Year's party. There is some mention of 1937 – is it '36 going into '37? This is turning into an epic story that spans years, with an epic cast.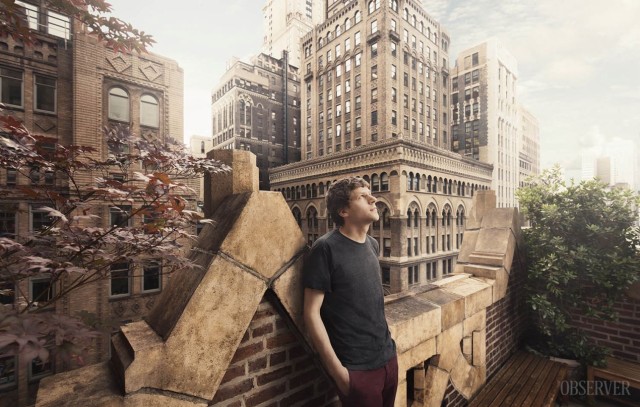 There was a wonderful profile of Jesse Eisenberg in The Observer. He talked about Allen in the piece.
What Allen is able to do is take philosophy, religion, politics, and then use them in humorous ways to comment on modern life. And what he does so well that few people do in humor is not compromise his intellect in order to appease those who don't know the things he knows.
Finally, we missed covering this, but there were some photos of Eisenberg on set from last week.
Not much else to report. There's no public shooting, suggesting a lot of interiors shooting. Production continues through to October – an epic shoot by Allen standards. We hope a lot more information surfaces.
Check out all our 2016 Film coverage.