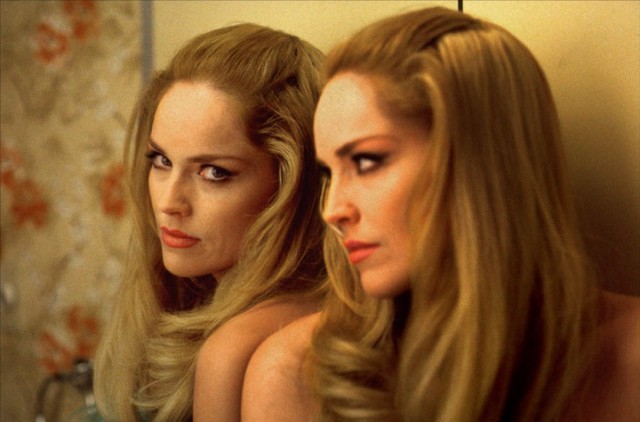 Sharon Stone can currently be seen starring alongside Woody Allen in John Turturro's Fading Gigolo. She also got her start in an Allen film, with a role in Stardust Memories. She has worked with Allen a few times, including voicing his love interest in Antz. Yet she has never appeared in a film Allen has directed.
She's a huge star, with a huge catalogue of films. Our poll question this week asks – What is your favourite Sharon Stone film?
Your choices are: 'Basic Instinct', 'Casino', 'The Mighty', 'The Muse', 'The Quick And The Dead', 'Sliver' and 'The Specialist'.
You can vote for as many as you wish or you can write in your own answer.
We also wrap up out last poll – What is your fave Diane Keaton film (not including the Woody ones or 'The Godfather')? Here's what you said.
Topping the poll was 'Something's Gotta Give' with 28% of the vote. This 2003 romantic comedy written and directed by Nancy Meyers and also stars Jack Nicholson and Keanu Reeves. Two Allen alum have roles – Amanda Peet (You Will Meet A Tall Dark Stranger) and KaDee Strickland (Anything Else). We've not seen this one so one for us to catch up on.
Second comes 'Reds' with 18% of the vote. The 1981 epic biopic of John Reed, who was on the ground floor of the Russian Revolution was co-written, directed and starred Warren Beatty (co-written with Trevor Griffiths). At three hours and 15 minutes, it's definitely a weighty work – and at times almost too important. Keaton plays Louise Bryant, billed as a co-lead with Beatty, and the two were in a relationship at the time. Jack Nicholson is also in this one, along with Allen alum Edward Herrmann (The Purple Rose Of Cairo, Don't Drink the Water), Maureen Stapleton (Interiors) and Gene Hackman (Another Woman).
Third is 'Father Of the Bride' with 14% of the vote. This 1991 comedic hit directed by Charles Shyer starred Steve Martin. It's a perennial family classic, one that we still love. This is the one we voted for!
Thanks to everyone who entered the poll. Let us know what you think of Sharon Stone's films!