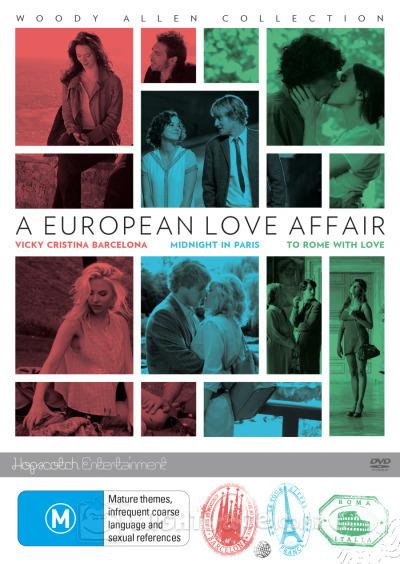 This Christmas is quite light on new Woody Allen products. However, there is one new box set being released in Australia. 'European Love Affair' collects some of Allen's most recent and successful films of recent years.
Hopscotch Films, Allen's Australian distributor for some years now, has put the set together. It features three films – Vicky Cristina Barcelona, Midnight In Paris and To Rome With Love – all films set exclusively in continental Europe.
From the Hopscotch website:
Making his way around Europe, Woody Allen presents a trio of refreshingly funny, intelligent and unequivocally entertaining films. In these odes to Barcelona, Paris and Rome, the actor/writer/director has succeeded in capturing the history, romance and magic of these celebrated cities.
The set's artwork recalls the sets released in Australia earlier this year.
The set is released on 20th November 2013 and retails at $29.95. You can purchase the DVD at EzyDVD. There will also be a Blu-Ray version.