News bits. Our twice monthly round up of Woody Allen bits from around the web.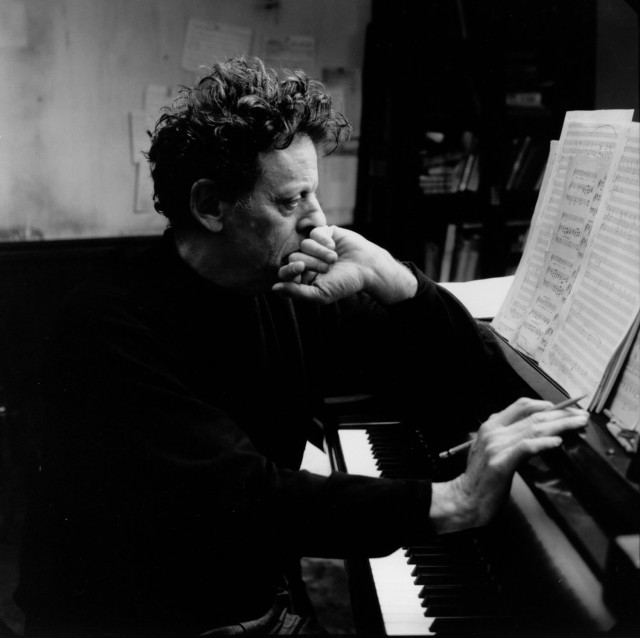 Legendary composer Philip Glass are one of the very few people who have created an original score for a Woody Allen film. Famous for his use of jazz, Glass was comissioned to write the score for Cassandra's Dream. In a new interview with The Hollywood Reporter, he gave Allen some praise.
Who are some directors you think really understand music's role?

Martin Scorsese or Woody Allen — really experienced filmmakers, they know how to do that. They know how to take advantage of what the music can do. If they don't know how to use that it's like throwing pearls before the swine.
Mayim Bialik posted on Instagram a photo of her with Woody Allen. She appeared in Don't Drink the Water, where she played Allen's daughter.
Kevin Spacey, out promoting about 'House Of Cards', is still going on about Woody Allen. Gotta love a man who knows how to get a director's attention. Empire has the story.
"But now I want to explore different terrain," Spacey adds. "I wrote Woody Allen a letter last year, saying I'd be keen to do something with him. And he wrote back, very charmingly, so I'm on the list now! I set him up with a Netflix subscription too, but I don't know if he's used it. So, yeah, it would be great if that happened. I'm going to write to Scorsese. There are a lot of directors I need to get letters out to…"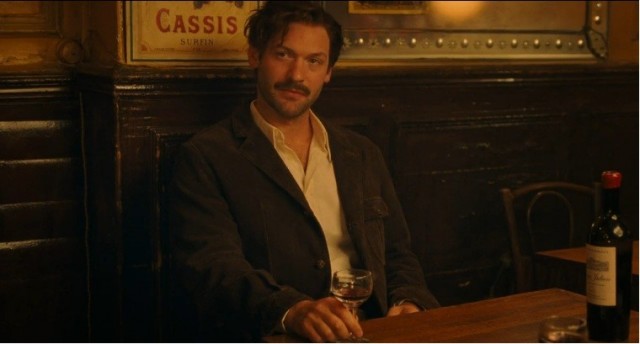 In related 'House Of Cards' news, The Huffington Post were shocked to discover Corey Stoll was in that series and Midnight In Paris.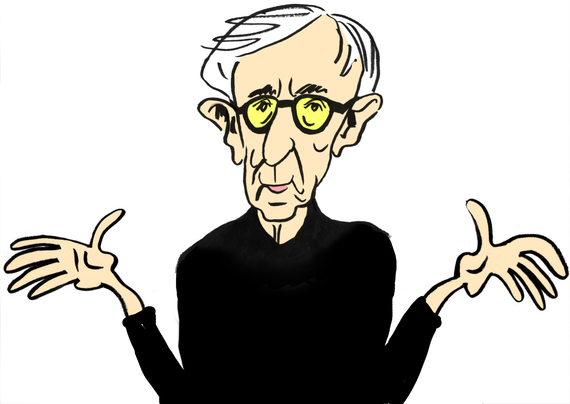 The Huffington Post's excellent journalism continues as, for some odd reason, they only just posted a review of Woody Allen's lecture at Princeton in October last year. Lots of great quotes from Allen. Go back six months and read quite a nice review.
Someone asks him what it's like to get older. "Do not let anyone convince you that you will become wiser," he says. " Nothing beautiful happens. You just get older. I am a romantic soul. I always wanted only one thing with my films — to be able to sit across from a beautiful leading actress. But now I'm too old. Some other guys gets to sit across from Scarlett Johansson and look into her eyes. I could be her grandfather!"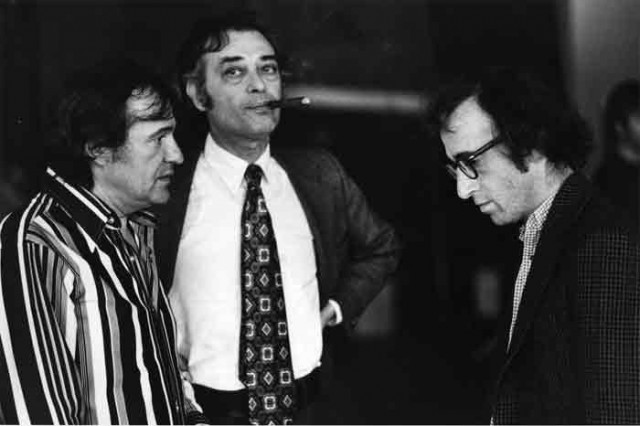 Buddy Morra is a retired talent manager who worked at Rollins & Joffe, who handled Woody Allen's career, as well as those of Billy Crystal, Robin Williams (who both appeared in Deconstructing Harry) and more. He just did an interview on the Paul Leslie Hour. Morra didn't work directly with Allen, but had something to say about his relationship with Rollins.
Jack Rollins was a very smart man. An intellectual, if you will. Read a lot. Could read a Woody Allen script and just be so precise about what was wrong and what was right about it that the first time, or any time that Woody Allen wrote a script the first person that would read it would be Jack Rollins.
Allen also taught Morra's son some magic tricks! Lots of cool stories about that legendary agency can be found in the interview.
We are enjoying the app Quiz Up. You can play people around the world in various trivia topics. The Woody Allen quiz is very good. It's not easy either. If you know your stuff, you will love it.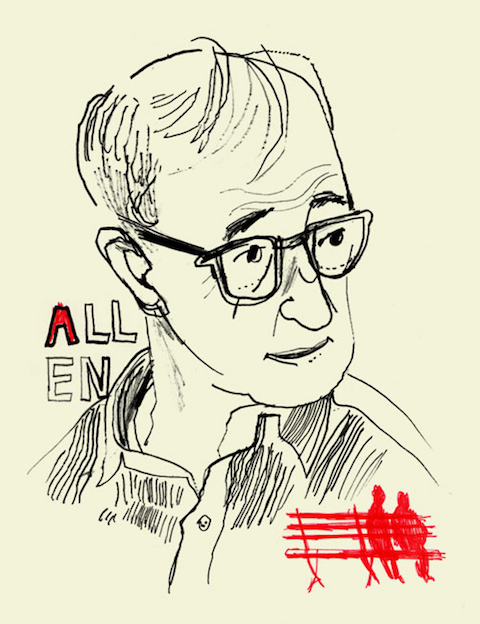 Russian designer Arina Orlova has illustrated some of the world's famous directors from A to Z. Paredro has more info, as well as sketches of Federico Fellini, Alfred Hitchcock, Tim Burton and 22 more.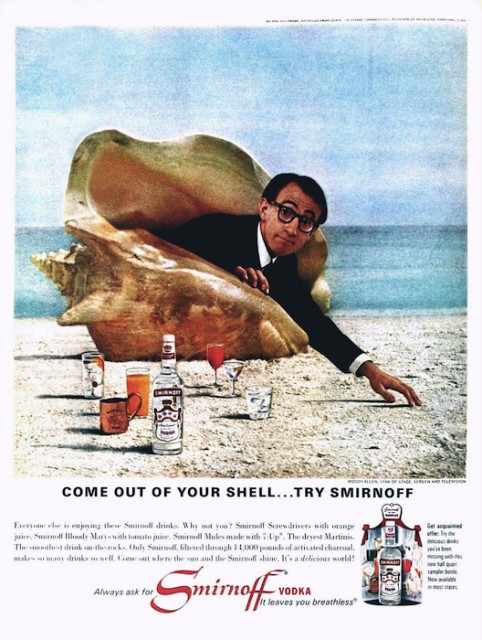 Collector's Weekly revisited some Cringe-Worthy Vintage Product Endorsements. Included is Woody Allen's Smirnoff vodka ad. Check out the full list to see Humphrey Bogart selling Whitman's Sampler, Groucho Marx selling Fosted Flakes, Charlie Chaplin selling IBM and Dom DeLouise ('Don't Drink the Water') selling NCR computers.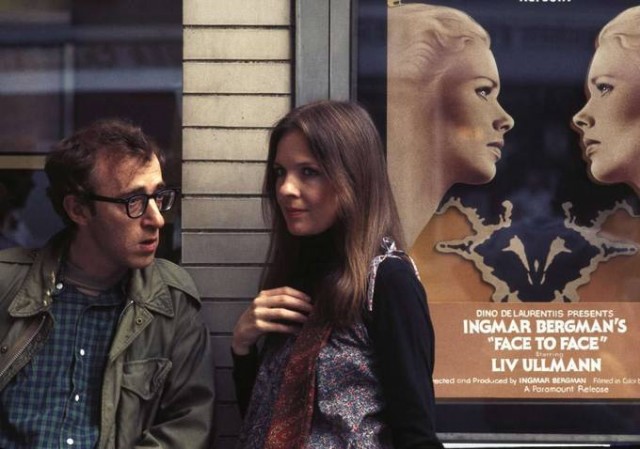 The Playlist has, bravely, ranked every best picture winner in the entire history of the Academy Awards. A fantastic read, they've put Annie Hall in at number 5. It is beaten out, from 1st to 4th, by 'Lawrence Of Arabia', 'The Godfather Part II', 'Casablanca' and 'The Godfather'. That means Diane Keaton appeared in three of the top five, as well as Play It Again, Sam, a loving tribute to another. Go Diane!
Copy Writers Roundtable has a classic quote on Allen writing jokes.
Craig Ballinger got Woody Allen tattoo-ed. On his neck. Ouch. Very cool.
Our man @ByCBallinger had Woody Allen on his neck, made him feel young again (Pic @charlie_whatley) @ManTroutInk pic.twitter.com/n7NH9GTxXL

— Brain Wash (@brainwashlondon) February 17, 2014
This t-shirt was posted on Twitter. We think its available to buy…it's a little confusing. Design is nice though.
https://twitter.com/r_coaster/status/435378270742147072/photo/1
And another shirt.
Finally – we are avoiding the tabloid sensationalism currently going on. But it's worth noting that Wallace Shawn – who has appeared in Allen films Manhattan, Radio Days, Shadows And Fog, The Curse Of the Jade Scorpion and Melinda And Melinda – write a piece about Allen in the LA Times. He addresses the tabloid drama, but also some insight into the two men's relationship that is worth noting.