Woody Allen turns 80 on 1st December 2015.
80 years is a remarkable milestone. We thought about doing something big to celebrate. But Allen has grumbled all year about this day – and how it is like any other, how he will not be making a big deal of it, how there is no meaning in life and we are all going to die. So we will do our usual wrap up of Allen's year.
And what a 79th year. It started as usual with Allen's last film – Magic In the Moonlight – wrapping up its cinema release and coming to DVD and other home formats.
He added another film – Irrational Man – to his remarkable tally, now at 45. It coincided with another Allen appearance at the Cannes film festival, flanked by stars Emma Stone and Parker Posey. There were magazine covers, newspaper features and red carpets. A yearly event – but still a big deal.
He also wrapped production on a 46th film, the as yet untitled 2016 film that will star Steve Carell, Jesse Eisenberg and Kristen Stewart. He shot the film late summer in Los Angeles and New York. As usual the film is shrouded in secrecy.
The news no one saw coming was Allen's deal with Amazon. Allen signed on to create a 2016 Amazon Series for the SVOD service and spent most of the year writing it. We still don't know many details, but we expect them very soon.
This year also saw the release of an updated stand-up set. The Stand-Up Years 1965-1968 collected together Allen's three comedy albums from the 60s with more contemporary interviews. There were also more Allen films to big Blu-Ray for the first time. Love And Death, A Midsummer Night's Sex Comedy, The Purple Rose Of Cairo and Shadows And Fog.
The awards kept coming. Annie Hall was voted by the Writers Guild of America as the funniest screenplay of all time. Eight films in They Shoot Pictures. And Barcelona is looking to create a Woody Allen museum.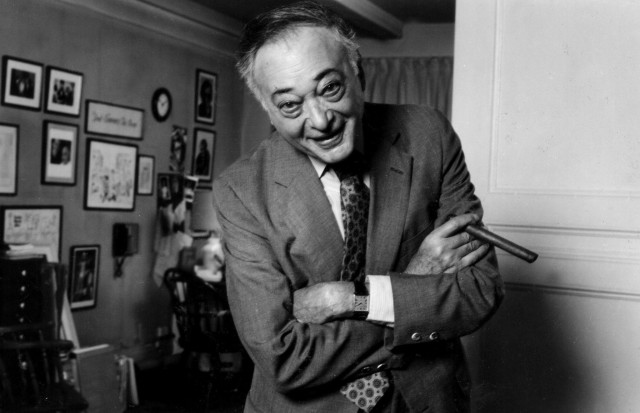 Some friends passed away. Allen's manager for over half a century, Jack Rollins, died, aged 100. Edward Herrmann, who had top billing on 'The Purple Rose of Cairo' and Don't Drink The Water also died, aged 71.
Around the world, Allen's plays are still being performed. This year also saw the revival of Allen's staging of Gianni Schicchi, starring Placido Domingo, in Spain and LA. This year also saw the Bullets Over Broadway Musical hit the road on a US tour. And several new books about Allen were published. We spoke to three authors this year about them – David Evanier, Tom Shone and Jason Solomons.
Throughout it all, Allen continued his decades long residency of playing jazz on Monday nights. For most weeks this year, Allen and the Eddy Davis New Orleans Jazz Band took to the stage at the Carlyle. They also found time to perform in Europe just before Christmas and the west coast in the summer.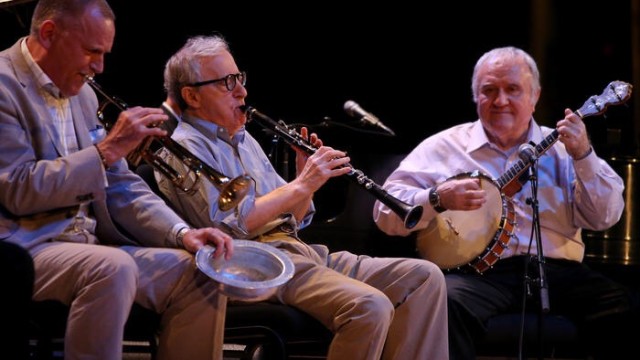 Next year is the actual 80th year and looks to be another typically busy and eventful one. The Amazon series will arrive, and no doubt much will be made of Allen's return to New York on screen. Dozens more jazz shows at the Carlyle. Who knows what else. We're planning to still be here to cover it.
Happy 80th birthday Woody Allen. Thanks for all the films, the books, the plays, the jokes, the pages and pages.