News Bits! Our twice monthly round up of Woody Allen bits from around the web. This is the 81st edition!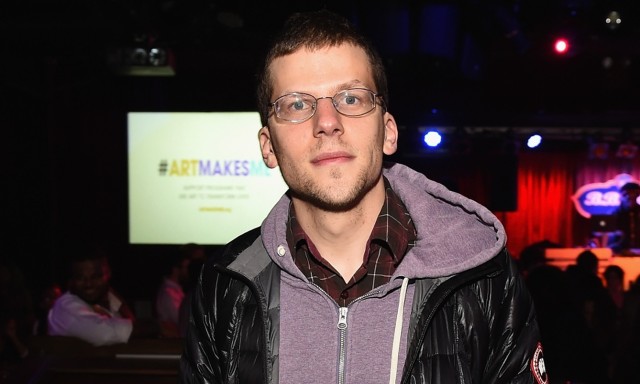 Jesse Eisenberg has said before that Woody Allen is his favourite director. He's wrapped production on Allen's upcoming 2016 film, his second with Allen after To Rome With Love. Eisenberg recently wrote a piece for the New Yorker, and cited Allen as part inspiration.
The piece is called An Honest Film Review. He explained by unembeddable videos at the Chicago Tribune (with Michael Phillips. Yay, we love Michael Phillips).
"I was just doing a Woody Allen movie, and someone showed me a review of his last movie," Eisenberg explained. "The review said something along the lines of, 'Woody Allen makes another movie. This one doesn't really work, but hey, he's doing one a year. Slow down, Wood-man.' And I realized the guy was not criticising the movie. He was criticising his own lack of productivity and laziness, vis-a-vis Woody Allen's productivity. But instead he was putting down the movie."
Some film critics took to twitter to attack Eisenberg. Kinda crazy. You have no idea what it is like to be really attacked! Call us when you get death threats.
Another great Eisenberg story from the Tribune – when he was 16, he got a cease and desist letter from Allen's lawyers.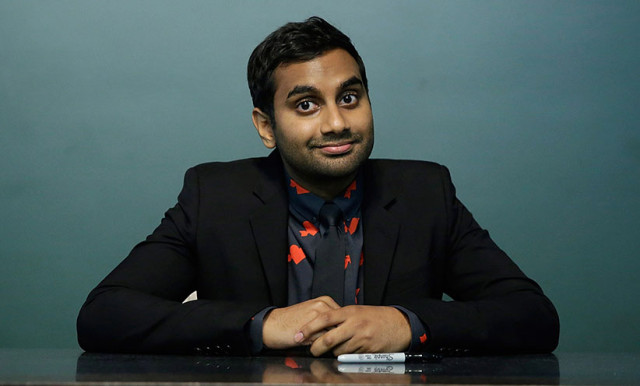 We couldn't love 'Master Of None' any more. It is probably our favourite TV show of the year. And Aziz Ansari has pulled off a major work, and critics have been quick to compare him to Woody Allen. Ansari himself has stated Allen as one of the show's influences.
Speaking to MacLeans
But as far as our filmic references, it was stuff like old Woody Allen, Hal Ashby, Robert Altman—more conversational.
Anyway, the whole thing is on Netflix. You'll love it.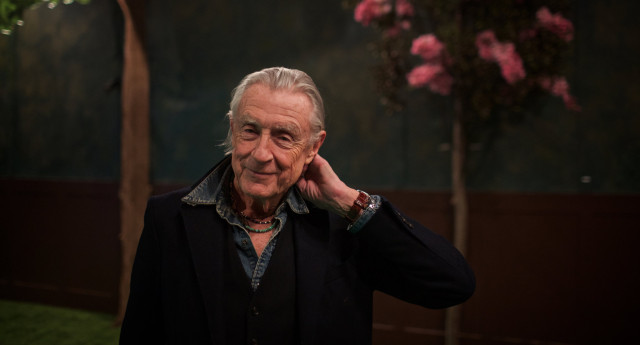 Joel Schumacher is promoting his new play 'Neighbourhood 3: Requisition Of Doom'. In a new profile in the New York Times, he talked about Woody allen, who he worked with at the very start of his career.
After he worked on costumes for "Sleeper," Woody Allen encouraged him to write. "He said, 'But you must finish, and someone has to read it'" — great advice, Mr. Schumacher recalled.
LA Times looked at the best films named after New York Burroughs. Manhattan, of course, topped the lot.
Signature Reads have created a pretty cool infographic type thing, looking at Allen's 50 years of film making. Check out he full thing. We like that they like Cassandra's Dream. Every Allen film has their defender.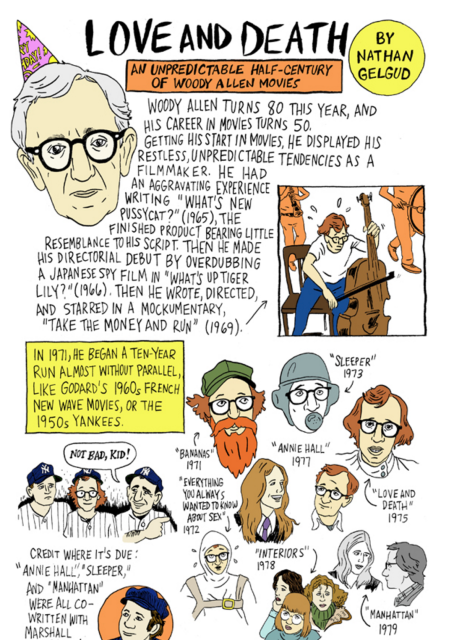 Fan art corner
Wonderful Space Invaders version of Woody Allen. Find out more about it here.
A better pic from my Nikon camera. Woody Allen Invader in the lower east side. #woodyallen #invader #spaceinvader #… pic.twitter.com/j1psAeo1RI

— StreetArtEverywhere (@StArtEverywhere) November 21, 2015
marianne batlle マリアンヌバトル ブローチ Woody Allen smallhttps://t.co/NiS6KIs7L6 pic.twitter.com/XN8KVFPPfI

— 激安SALE情報 (@sale_shop_269) November 23, 2015
I'm into leather. From Annie Hall. On Etsy.