Our latest video in our 10 Things series looks at one of Allen's more acclaimed but lesser seen works – Sweet And Lowdown. We dig into just some of the trivia around the film. Including
Woody's last big TV appearance
The script's 30 year journey
Again, the Frederico Fellini influence
Of course, Django Reinhardt
The documentary format
The real guitar player, Howard Alden
Samantha Morton's masterful performance
The cameo by a director who is a big Woody Allen fan, John Waters
New, non English speaking cinematographer Zhao Fei
The start of a new long collaboration with Alisa Lepselter.
This all comes from new research we did for our book The Woody Allen Watcher's Guide – the fact filled, annotated companions to Woody Allen's films. You can get it at Amazon or iBooks. You can find out every reference, location, music cue, production info and much, much more for 36 of Woody Allen's films. We are working on a physical edition for Amazon as well. This is one of the best ways to support the website.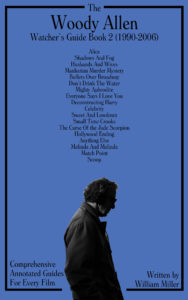 Also check out the rest of our videos and subscribe to our channel on YouTube. If you press like or comment, it helps us become more visible, and it's a great way to support the site and Allen's work as well.