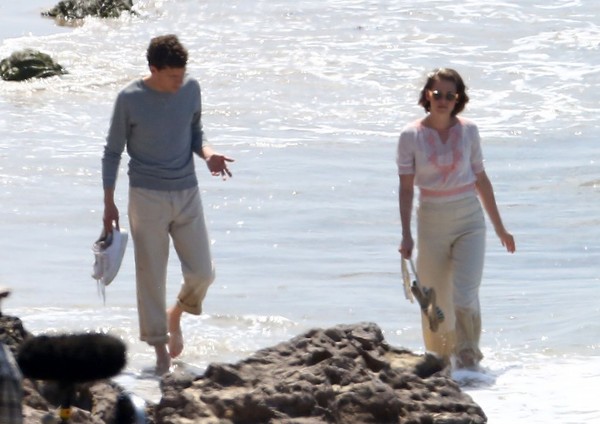 We are well into week 2 of production on Woody Allen's 2016 Film and there's plenty going on. More public filming, as well as some special guest visitors.
Filming took place on Hermosa Beach, California. Jesse Eisenberg and Kristen Stewart's characters take a stroll along the beach. There was then a costume change as they went to another location to share a(nother) kiss.
There was a major dramatic moment during production where Allen tripped, but was helped by what seems like a thousand crew members. Stewart and Eisenberg were actually clinging to eachother as they looked on in some horror, we imagine!
Again, no sign of the rest of the cast.
There were visitors to the set, including Stewart's dog Cole.
New pics of Kristen on set with her visitor baby Cole hehe awww so cute 😉 pic.twitter.com/v4onmzftQq

— Kissy (@kissyonline) August 27, 2015
Of the human variety, Robert Weide, the director of Woody Allen: A Documentary visited the set. So did two former Allen producers – Robert Greenhut (from Annie Hall in 1977 til Everyone Says I Love You in 1996), and Michael Peyser (from A Midsummer Night's Sex Comedy in 1982 til The Purple Rose Of Cairo in 1985). They had a photo with Allen and Helen Robin, one of Allen's current producers (since Another Woman).
#WoodyAllen films in L.A. for first time since Annie Hall. Set visit today from @WoodyAllenDoc director @BobWeide. pic.twitter.com/jWVBSbB12R

— Woody Allen Docu (@WoodyAllenDoc) August 27, 2015
Rare reunion today on #WoodyAllen set in L.A. Producers Michael Peyser, Helen Robin & Robert Greenhut. @WoodyAllenDoc pic.twitter.com/ZvhDvQEAVb

— Woody Allen Docu (@WoodyAllenDoc) August 27, 2015
Filming continues on Allen's new film in Los Angeles until mid September, when it moves to New York. Catch all our coverage so far.