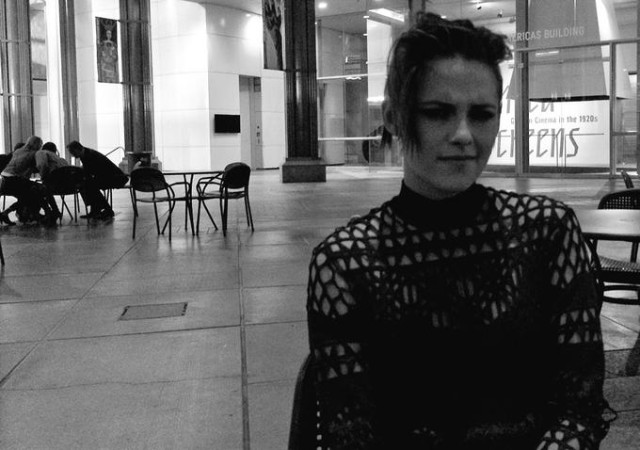 Kristen Stewart has been announced to star in the 2016 Film written and directed by Woody Allen, alongside Jesse Eisenberg and Bruce Willis. In a new interview with Indiewire, she discusses her audition for the Allen film for the first time.
The interview covers a lot of ground, but here's the bit about Allen:
So, Woody Allen: is that something you'd wanted to do for a long time? What character are you playing?

Yeah, why not? Actually, to be honest, I don't know how much I'm allowed to talk about it. They sent me a script and had somebody sit outside my house. When I finished reading, I had to go back out and hand it to them. The scenes that I auditioned to get the part, I had no idea the context of them. I had one conversation with him.

He leaves you alone, too. Cate Blanchett was a tad freaked out on "Blue Jasmine." But it worked out okay for her.

Apparently so. Very French of him. It did, yeah [laughs].
It seems to be a pretty standard Woody Allen audition story. Interesting that she didn't get the full script, although that has only happened in a handful of cases.
She also talks about Eisenberg.
You wrapped Nima Nourizadeh's "American Ultra" (Lionsgate) with your pal from "Adventureland," Jesse Eisenberg?

It was awesome. It's finished. It's very commercial, actually, which is different for me lately. Very funny, which is also different for me lately. It's an ultra-violent, really broadly comedic love story. Jesse's the star of the movie, and he's so incredible that there's no way that movie isn't fantastic.
Not much to go on, but we will no doubt find out more come August when production begins.