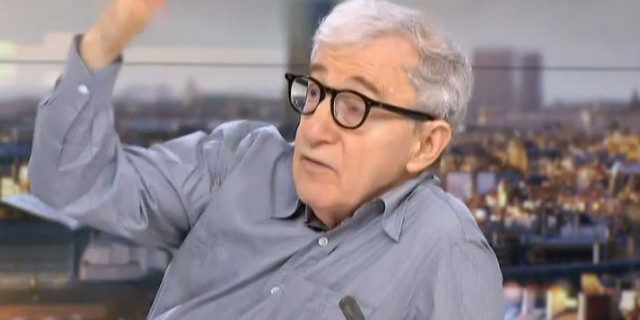 Lots and lots of news coming out for Café Society in the days leading up to its world premiere on 11th May. All eyes are on the Cannes Film Festival, Allen has been in France doing interviews.
The new interview from France TV. We can't embed the video, but you can watch it on their website.
Allen is asked about:
Paris, where he says he enjoyed living there for almost four months to make Midnight In Paris, and how it is a city he loves. He was also asked about the recent Paris attacks, and how he believes the city will overcome it.
His scribbling habit, the notes he keeps that he refers to when he writes his scripts. How he keeps them in drawer, and he won't live long enough to make them all.
They showed the trailer with French dubbing – and a bit of context. There's archival footage of Allen, including clips of Bananas, Annie Hall, Manhattan (both including Diane Keaton) and Broadway Danny Rose (with Mia Farrow).
They touch on Allen's history with Cannes.
Then Allen talks about work, and being a film person, and how he just like to make films. How he's not there to compete or win anything.
Then he talks about the film being a romanticised view of the 30s.
Then he talks about how people say his films are all the same, but he doesn't see how people can look at Match Point and Zelig and say that they are the same. He compares it to how some people think all Chinese food taste the same.
He talks about casting. How all these actors come to him and say they want to work with Allen, but when they call, they make excuses and it doesn't happen. Some times it's money, or they have other pictures to do, but there are so many talented people that he can always find someone.
He talks about Jesse Eisenberg, and loved him.
Then he talked about how he started writing for women after meeting Diane Keaton. How he writes better for female characters than male ones.
Then he asks about how his wife has taken over his life, and how women run his life for me. He compares himself to Ted Cruz in that sense!
Then he talks about how his mum was proud of him, and that he used to write jokes in high school. And he chose the name Woody Allen because he was shy and didn't want to be famous.
Allen also talks about cinema being a big escape. Fred Astaire, Ginger Rogers and Humphrey Bogart were all mentioned. He refers to Kristen Stewart as a star.
He is still in therapy, but he compares it as a tune up.
He discusses being a realist, that there's no life after death. And his job as an artist is to show why life is worth living, even though it's meaningless.
He discusses how he always votes, how he's a democrat, and will be voting for Hilary Clinton. He doesn't think Donald Trump has any chance of winning.
And if he could have been something else, he would have chose being a great athlete. With cinema, he can still make a film every year.
Allen also spoke to Europe 1 Radio.
Amongst the highlights, Allen talked about how he would be a bad loser, which is one of the reasons he doesn't enter competitions.
There are also headlines coming out of the interview about not knowing Julie Gayet, the partner of current French President François Hollande.
With Allen in Paris, we're sure there will be more interviews leading up to a red carpet appearance this Wednesday at Cannes.