5 Films (And A TV Show)… A new series where we recommend films referenced, inspired, influenced or generally like a certain Woody Allen film, from his first to his latest. All picks are subjective – let the arguments begin!
Allen takes us back to another era of entertainment, comedy and music with Broadway Danny Rose. It's a life of low level showbiz, with many eccentric characters and a heart of gold trying to keep it all together.
It was a far cry from the upper class Manhattanites of Allen's most famous works.
So here's 5 films and a TV show to watch after Broadway Danny Rose.
Bicycle Thieves (1948)
D. Vittorio De Sica
One of the cinema's best and Allen's go to favourites. Allen called Broadway Danny Rose his Italian film, with this street level story and its director in mind. It's a sad story with a sad ending – a father and son searches for the stolen bike that gives them a living – exactly the type of film Allen was trying to make for American audiences.
The Sunshine Boys (1975)
D. Herbert Ross
One of Neil Simon's best plays, translated wonderfully with Martin Landau and George Burns and director Herbert Ross (who directed Allen in Play It Again, Sam). Two entertainers from another era get another shot, if they can bury the hatchet.
F Murray Abraham (Mighty Aphrodite) and Ron Rifkin (Husbands And Wives, Manhattan Murder Mystery) also star. The cinematographer was David M Walsh, who had worked just a couple of years earlier with Allen on Everything You Always Wanted To Know About Sex and Sleeper.
Allen had briefly considered directing the play. Allen actually starred in a TV version with Peter Falk and Sarah Jessica Parker in 1996.
Mr Saturday Night (1992)
D. Billy Crystal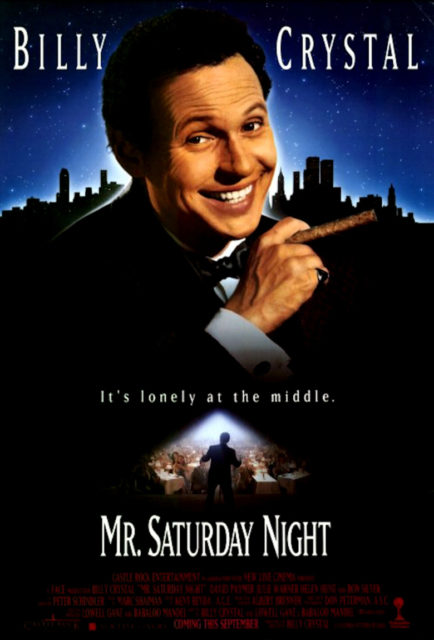 Billy Crystal has taken on triple duties of directing, writing and starring only twice – both in wonderful films. Maybe just slightly the better film is the first – Mr Saturday Night. Also an ode to another era of light entertainment, it is a sprawling and sweet biopic of Buddy Young Jr.
The film also features Helen Hunt (The Curse Of the Jade Scorpion) and Jerry Orbach (Crimes And Misdemeanors). Crystal, of course, appeared in Deconstructing Harry.
Funny People (2009)
D. Judd Apatow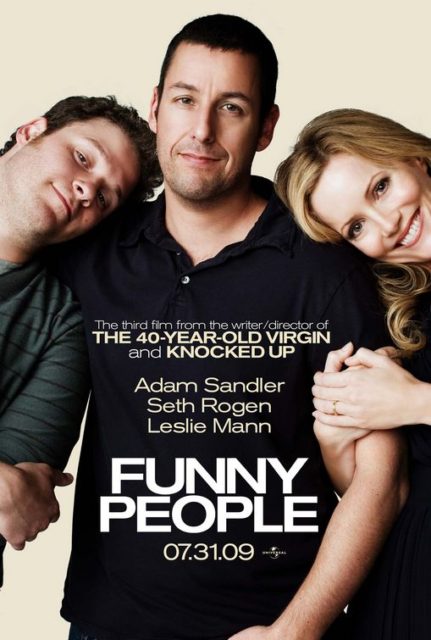 Judd Apatow tried to go for something deeper with Funny People, telling a more personal story about comedians in different generations, struggling to get by. Going more for heart than laughs, it remains great despite not being embraced by the masses.
Frank (2014)
D. Lenny Abrahamson
What is talent, and what is fame? When a young wannabe falls into the circle of the eccentric Frank, he tries to nurture him into being a big star. But like the naive Danny Rose, the journey is not what you expect. Features a wonderful lead performance by Michael Fassbender.
The Larry Sanders Show (1992-1998)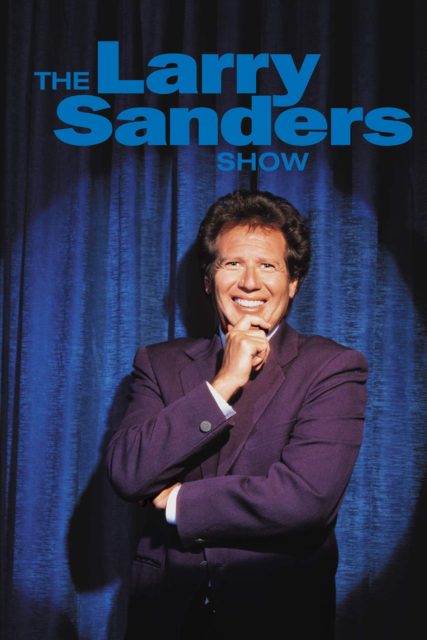 A look at showbiz, whatever that was, from the inside. The Larry Sanders Show took us behind the scenes of a fictional late night talk show, using real celebrities to comment on fame. It was bitterly funny, setting a tone of humour that would define HBO in the decades to come. Garry Shandling, who died recently, was truly a comic pioneer.
Let us know your picks for Broadway Danny Rose and if you agree with our picks. We are also looking for picks for The Purple Rose of Cairo, which is the next film we will cover. Let us know in the comments below or on Facebook or Twitter. Check out the full list of 5 Films (And A TV Show).