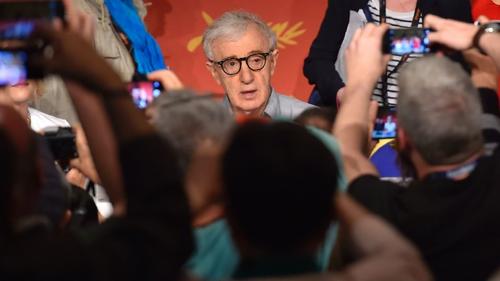 A couple of casting notices have gone out for Woody Allen's 2017 film, due to start production this week. It also gives us a bit more information about the film, which will star Jim Belushi, Juno Temple, Justin Timberlake and Kate Winslet.
Central Casting NY posted these two notices.
SEEKING TALENT FOR NEW WOODY ALLEN MOVIE. BOTH UNION AND NON UNION MALES TO PORTRAY CAUCASIAN VERY BUFF BODY BUILDERS ON BEACH. NO TATTOOS. MUST BE AVAILABLE WED 9.14 FOR FITTING IN MANHATTAN. MUST BE AVAILABLE ALL DAY FRI SEPT 16 AND TUES SEPT 20. FOR PROPER CONSIDERATION, EMAIL SHIRTLESS PHOTOS TO WASPSUBMISSIONS@CENTRALCASTING.COM NOTE UNION STATUS, ALL SIZES, CONTACT INFO AND INCLUDE TWO PHOTOS.

SEEKING UNION/NON UNION MINORS 6-12 YRS TO PORTRAY 1950S CAUCASIAN BEACH GOERS FOR WOODY ALLEN PROJECT. AVAILABLE FOR A FITTING ON THURSDAY 9/15 AND WORKING WED 9/28 & THUR 9/29. IF AVAILABLE PLEASE SEND A RECENT CANDID PHOTO OF YOUR CHILD TO WASPSUBMISSIONS@CENTRALCASTING.COM. USE THE SUBJECT LINE "MINORS." NOTE CURRENT SIZES, DATE OF BIRTH, UNION STATUS, AND CONTACT INFO. INDICATE IF YOUR CHILD HAS A VALID WORK PERMIT AND TRUST ACCOUNT.

PLEASE DO NOT SEND EMAILS UNRELATED TO THIS POST.
It looks like there will be several days shooting on a beach – but which one? With the production set in Brooklyn and near Coney Island, Rockaway Beach could be a good bet. Allen filmed there before, for Radio Days.
This matches with what we know, that Timberlake will be playing a lifeguard.
We love hearing from extras on Woody Allen films. If you make the cut, we'd love to hear from you.
The 2017 film starts shooting tomorrow!