2012 was another busy year for Woody Allen DVDs. A new box set series was released in Europe and Australia, as well as 2011's Midnight In Paris and this year's Woody Allen: A Documentary. Other bits and pieces as well, and we have the full round up.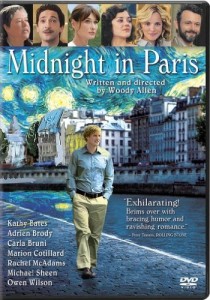 'Midnight In Paris', Woody Allen's 2011 film, actually came out in the same year on DVD, in the US (which doesn't usually happen). It snuck out on 20th December 2011 in the states, but 2012 everywhere else.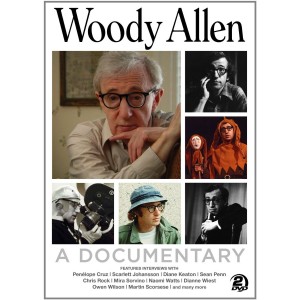 Directed by Bob Weide, this lengthy, acclaimed and wonderful documentary was created from archival footage, a parade of famous talking heads and unprecedented access.
Another 2011 release in the US, but 'Woody Allen: A Documentary' actually rolled out in cinemas around the world. There are multiple covers but all versions have the 3 and 1/2 hour version.
'Celebrity' came back into print in the US, with a new cover. 'Celebrity' is an orphan in the Woody Allen catalogue, as it was the only film he ever made for Miramax.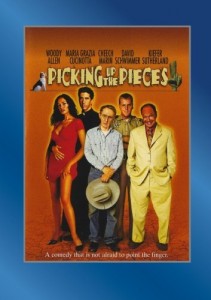 Released in 2000, 'Picking Up the Pieces' is one of the rare films where Allen stars but did not write or direct. It finally made it to DVD this year.
Directed by Alfonso Aráu, it had quite a name cast including Sharon Stone (Stardust Memories and the upcoming Fading Gigolo), David Schwimmer, Kiefer Sutherland, Cheech Martin (of Cheech and Chong), Elliott Gould, Joseph Gordon-Levitt and more. Despite all that, it bombed badly, and attracted negative reviews.
The Woody Allen Collection (20 Disc Set)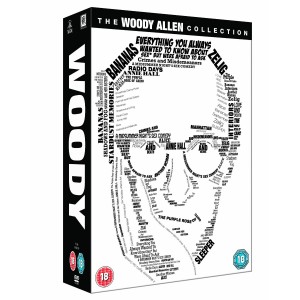 A new 20 disc Woody Allen box set was released across Europe this year. It features every Woody Allen directed film from Bananas in 1971 til Shadows And Fog in 1991 as well as 2004's Melinda and Melinda. It includes many of Allen's most acclaimed films including Annie Hall, Manhattan, Hannah And Her Sisters, Crimes And Misdemeanors and more.
Because it's a European release, the films offer French, Spanish, German and Italian language dubbing and English, German, French, Danish, Dutch, Finnish, Italian, Portuguese, Polish, Swedish, Spanish and Norwegian subtitles.
The full list:
Bananas (1971)
Everything You Always Wanted to Know About Sex* (*But Were Afraid to Ask) (1972)
Sleeper (1973)
Love And Death (1975)
Annie Hall (1977)
Interiors (1978)
Manhattan (1979)
Stardust Memories (1980)
A Midsummer Night's Sex Comedy (1982)
Zelig (1983)
Broadway Danny Rose (1984)
The Purple Rose Of Cairo (1985)
Hannah And Her Sisters (1986)
Radio Days (1987)
September (1987)
Another Woman (1988)
Crimes And Misdemeanors (1989)
Alice (1990)
Shadows And Fog (1991)
Melinda And Melinda (2004)
This fantastic set was also featured in two Amazon sales so far this year.
Amazon UK
The Woody Allen 4 Film Collection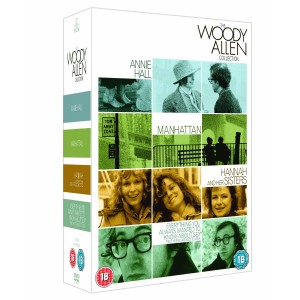 Europe also released a more modest Woody Allen box set, featuring four films – 'Annie Hall', 'Manhattan', 'Hannah And Her Sisters' and 'Everything You Always Wanted To Know About Sex'. It's a perfect Woody Allen starter pack.
Amazon UK
Finally, Australia released three volumes of Box Sets.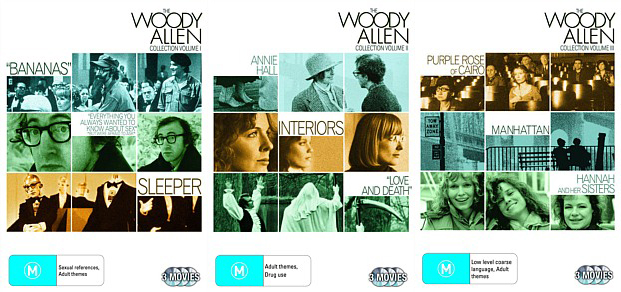 Woody Allen Collection – Volume 1
Collects Bananas, Everything You Always Wanted To Know About Sex* (*But Were Afraid To Ask) and Sleeper.
Woody Allen Collection – Volume 2
Collects Annie Hall, Interiors and Love And Death.
Woody Allen Collection – Volume 3
Collects The Purple Rose Of Cairo, Manhattan and Hannah And Her Sisters.
We'll round up the year in Blu-Ray and the cinema before the new year!