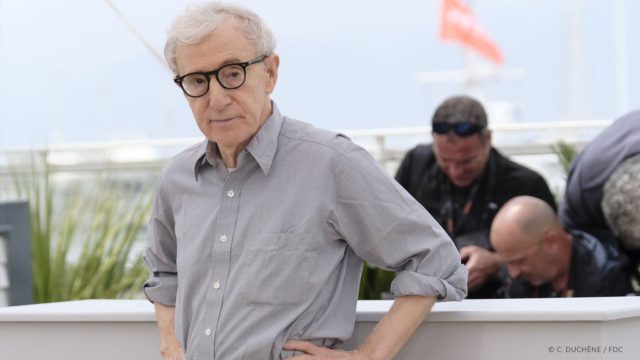 Woody Allen's work continues. In amongst all the chatter at the Cannes Film Festival, there were some murmurings of what Allen would do next. Putting it all together, we can determine that Allen will indeed make a new, 2017 film this summer, that he will make it in New York, and it will be a drama.
There was some speculation (as usual) that this would be the year that Allen would stumble on his film-a-year pace, which he has maintained since 1982. Production on his 2016 Amazon series have interrupted Allen's usual steady pattern. We are in May and we don't have any casting information – almost unheard of in recent decades.
Yet, when talking about the Amazon series, he told L'obs
After that, I'll make a film this summer, a drama.
It is the first time we've heard from Allen that he has decided what his 2017 film will be. Looks like he has story and is set to go. Allen has said many times that he would prefer to just make dramas, and chimes with Allen's comments in the LA Times that he's looking to give up on comedy (or hiding behind comedy).
It's worth noting that in Allen's last ten films (and last ten years) he has made only four comedies – or at least four films with happy, upbeat endings. Yet, there has only been one time where he made three dramas in a row, the late 80s run of September, Another Woman  and Crimes And Misdemeanors.
Allen has also made many comments, at Cannes and recently, about wanting to shoot in New York again. It's what we've heard before – sleeping in his own bed, staying in his own world. He's made no secret that he's only made films in London, Barcelona and Paris because of funding. When Amazon and its competitors are fighting so hard for mid budget films – there really is no reason for Allen to travel. At age 80, it would be likely we will never see an Allen film made outside the US again. Although, they did say that before 2004.
Allen has made comments that he has been eye-ing Coney Island as a possible filming location.
Allen will shoot this summer, his usual schedule. His jazz gigs with the Eddy Davis New Orleans Jazz Band, usually every Monday at the Carlyle in New York, will take a break after 14th June. Usually time for Allen to do some interviews and make a film.
Allen returns from Cannes, and we can only assume the 2017 film is the priority. Expect casting news and more details very soon.