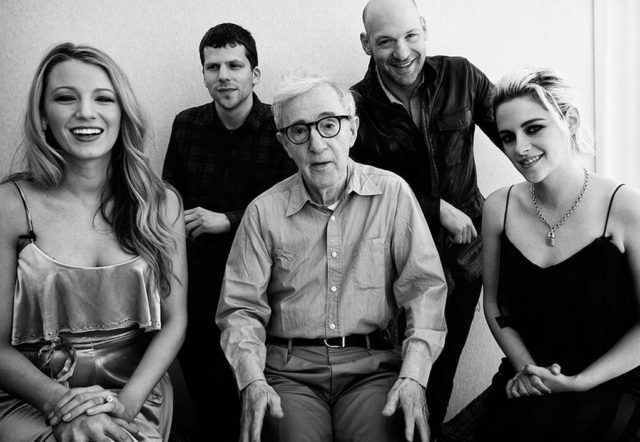 Woody Allen and his cast for Café Society has generated a lot of press in the last several days (to say the least) at the 69th Cannes Film Festival. Here's a big wrap of various videos, links and photos – there's so much of it, it is frankly hard to keep up.
Blake Lively and Kristen Stewart talk Allen with People.
Says Lively
"He has such a strong fingerprint, you know a Woody Allen movie," explained Lively. "Even though he jumps genres, his dialogue, his cadence, his music – so stepping into it you have a good sense of what this filmmaker wants."
Says Stewart
"I walked out of the room and I was like, 'Give me the tape,' and they were like 'No, no, no,' " she said. "I was like, 'I can't believe I'm leaving this tape in this room for him to watch.' "
There's an unembeddable video at Deadline, and they spoke to the whole team, including Jesse Eisenberg and and Corey Stoll.
Highlights
This was a new script, not an old idea from his drawer.
The core romance was the first inspiration for the film.
I could have made it contemporary,could have made it in New York or anywhere else, then the idea hit me to make him (Eisenberg's character) an agent and the whole thing blossomed into a more picturesque atmosphere.
Eisenberg talks about improvising and the long scenes. Lively talks about the intimidating feeling of the freedom.
Still says he over prepared for Midnight In Paris, and was more casual this time around.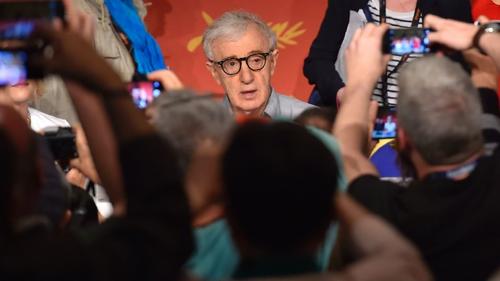 Allen tells an amazing Cary Grant story in the LA Times
"Every time I would see Swifty Lazar at Elaine's, he would would come up to me and say, 'Cary Grant will only come back to films to work for you.' And in fact one night Cary Grant came down to Michael's, where I played jazz, and sat there and listened the whole night and behaved like the biggest fan in the world.

"So I cooked up this film where a car pulls up on Sutton Place in Manhattan and Cary Grant is in it and he takes me to a party and all of a sudden we're in 1920s New York. I called Cary Grant's office and he tells me 'I'm retired, I'm not ever going to make a film again.' Garson Kanin then told me, 'Don't ever believe anything Swifty Lazar says,' and years later the idea metamorphasized into 'Midnight In Paris.'"
Allen and the team did a lot of press but we'll see more of it as the film begins its roll out around the world. Any other highlights we will add to this page.
And here's some more pics while we're at it.
"Café Society" Red Carpet #CannesFilmFestival pic.twitter.com/IKGTvcBL5b

— CHANEL (@CHANEL) May 13, 2016
Corey Stoll, Blake Lively, Director Woody Allen, Kristen Stewart and Jesse Eisenberg at #NikkiBeach #Cannes2016 pic.twitter.com/f6CkCUMGrQ

— Nikki Beach Cannes (@NikkiBeachCanne) May 12, 2016