New bits! Our twice monthly round up of Woody Allen bits from around the web.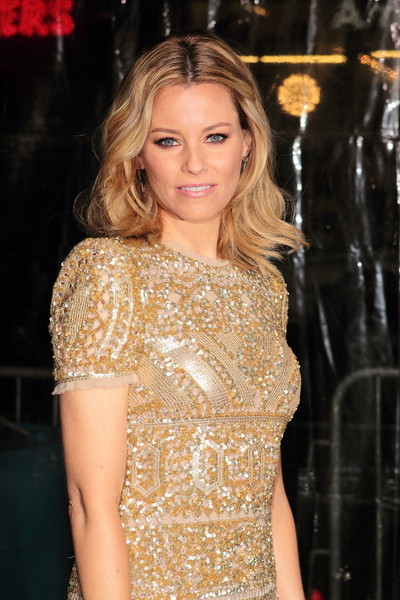 Elizabeth Banks is out promoting 'Man On A Ledge', but in an interview with Starpulse, she let a juicy Woody Allen tidbit drop.
You've worked with a lot of people like Kevin Smith, Judd Apatow, Ed Burns, is there someone that you'd love to work with that you haven't had the opportunity to?

I would love to work with Woody Allen. I've almost worked with him twice. He's chosen other people.

But you've gotten in the door.

EB: I've met him a few times, yeah. It's a very fun meeting, mostly because the expectation is that he's gonna like…literally someone was like, a friend of mine who had met him on a meeting, because he doesn't audition anyone. You just go, and he just goes 'Mmm…yes/no.' A friend of mine met him and said the room he sat in was very dark. It's the same place on the Upper East Side where he's been living for a hundred years. And all the rooms were dark, and it was like a hand came out of a shadow and went 'It was nice to meet you,' and that was it.

So the first time I met him he actually came out and was like 'Hi! It's me!' like in the full light. I still was like in a weird spotlight in the middle of the room, but he actually came out and shook my hand and spoke to me. And I was like 'All right! I'm in! He came out of the shadows.' I didn't get it but he did come out of the shadows to talk to me.
We wonder what the roles were? Maybe the Rachel McAdams one in Midnight In Paris? What do you think?
Ashley Benson of 'Pretty Little Liars' is on the cover of the new Cosmopolitan. In a new interview, she talks about wating to work with Woody Allen, through a fashion question.
Do you ever wish the characters were more down-to-earth?

The thing I always make fun of is the wardrobe. Really, do you think anyone would actually wear full hair and makeup and 6-inch heels to school? I was 13 when I was last in school, and I never wore makeup. I wasn't allowed. Now [girls are] all wearing heels and makeup and getting their hair done, so I'm not sure it's us influencing girls or that's just the way it is now. If I had gone to high school, I would have rolled out of bed and showed up in sweats. I mean, I want to work with Woody Allen; that's one of my goals. And every film he does, the wardrobe is so simple, no makeup or hair, and that's what I love in a movie—a natural human being, not dressed to the nines, false lashes, all done up.
(Did you know the sex olympics were on…?)
Dame Edna Everage also wants to work with Allen, from a new interview from The Guardian. She is about to retire, and just wants that one more job before it happens.
"I'm hoping Woody Allen will put me in a movie," Edna says, leaning in close. "A highly paid one."
A new interview with Conal Fowkes, the piano player in Woody Allen's jazz band, appeared in the latest issue of Hook magazine. The article covers his career with Allen, from joining the band as a bass player, to working on the soundtracks of his films beginning with You Will Meet A Tall Dark Stranger.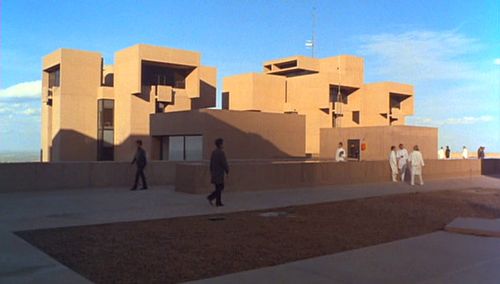 The Denver Eye has updated their article on the modern architecture of Sleeper. Find out more about Sculptured House and the National Center for Atmospheric Research.
The New York Times recently looked into the celeb culture of the New York Knicks. A culture that, til recently, included Woody Allen (although he still goes to the games).
One of the most prominent celebrity Knicks fans, Woody Allen, is no longer welcome in Suite 200. He pays for season tickets and used to be a Suite 200 regular — albeit without ever talking to any of the other guests, Garden staff members said — but was asked to stop coming after, the Garden said, he refused on three occasions to do small favors for them. His spokeswoman, Leslee Dart, said that he had been asked to do only one thing — film a short promotion for a movie of his that was being shown on the MSG network — and that he declined because he never promotes his own movies. In any case, she said, when the Garden told him not to come to the suite anymore, "he understood completely."
Toronto given the Manhattan treatment. It was directed by Layla Shioguchi.
GQ recently tweeted Woody Allen's appearance on their 1986 cover.
Today in 1986 50-year-old Woody Allen appeared on the cover of February's @GQMagazine. pic.twitter.com/hHGNjYoPug

— Rob Frydlewicz (@HistoryOhMy) January 20, 2014
Twitter user @roy_ tweeted this updated map of Woody Allen filming locations. Click to make bigger.
You can buy a little sculptured Woody Allen from Stanley Chow from 3rd Feb.