News bits! Our twice monthly round up of Woody Allen news from around the web!
We started last year, and looks like we will every year, by wishing Diane Keaton a happy birthday for 5th January.
Will McCrabb always posts great, unseen pics, and posted two great ones of Keaton. As good a way as any to pay tribute to our favourite actress ever.
Happy Birthday DIANE KEATON seen here in a photo taken by her Mother and my Aunt Dorothy HALL. pic.twitter.com/ujaFquvSDT

— will mccrabb (@mccrabb_will) January 5, 2014
DIANE KEATON HALL and her siblings, upon seeing BONNIE & CLYDE dressed up like the gang. Photo by Mom DOROTHY. 1967 pic.twitter.com/77SkbyPSxi

— will mccrabb (@mccrabb_will) January 5, 2014
New York Times published a massive pull out infographic in January, mapping out Woody Allen's influences and those he influenced. So many folks find their way into graphic, including plenty who have worked with Allen on screen, such as Greta Gerwig (To Rome With Love), Larry David (Whatever Works), Billy Crystal (Deconstructing Harry), Louis CK (Blue Jasmine) and, of course, Diane Keaton.
Click to make bigger.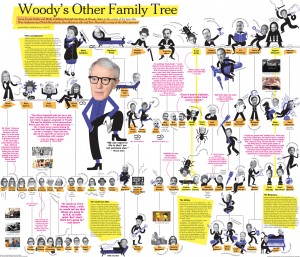 Here's how it looked in the paper.
Where's Woody? How many of Allen's films can you see in this illustration? Don't you wish this image was a little higher in resolution?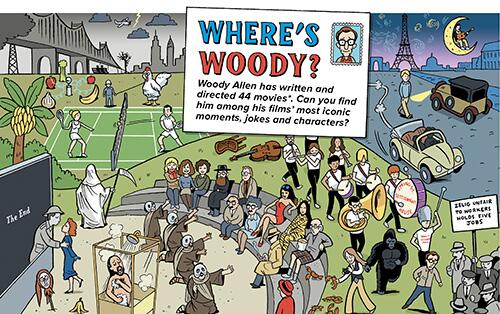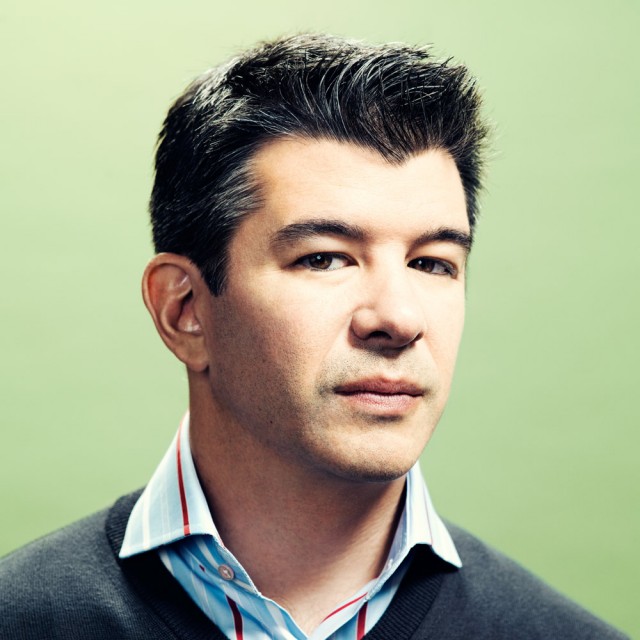 The founder of the car sharing service Uber, Travis Kalanik, has paid tribute to Woody Allen in inspiring him, in a new interview with Wired.
By the time he reached his thirties, Kalanick was a seasoned veteran in the startup trenches. But part of him wondered if he still had the drive to build another company. His breakthrough came when he was watching, of all things, a Woody Allen movie. The film was Vicky Christina Barcelona, which Allen made in 2008, when he was in his seventies. "I'm like, that dude is old! And he is still bringing it! He's still making really beautiful art. And I'm like, all right, I've got a chance, man. I can do it too."
What if Woody Allen directed What's New Pussycat? Bridget Foster Reed took a look at what could have been at Brattle Film Theatre Notes.
Huffington Post's entertainment section listed Allen's 10 best films. Number 1 was Manhattan and number 10 was Bullets Over Broadway. Check out the full list.
Time Out London has compiled their list of the Ten Best Women In Woody Allen films. Number 1 is Annie from Annie Hall. Check out the full list.
The blog That Candra Aditya Kid has created a Fake Criterion for 'Blue Jasmine'. For those who are not aware, Criterion are the top class in DVD/Blu-Ray reissues. Here's an idea of what the Criterion edition of Blue Jasmine might look like. One day…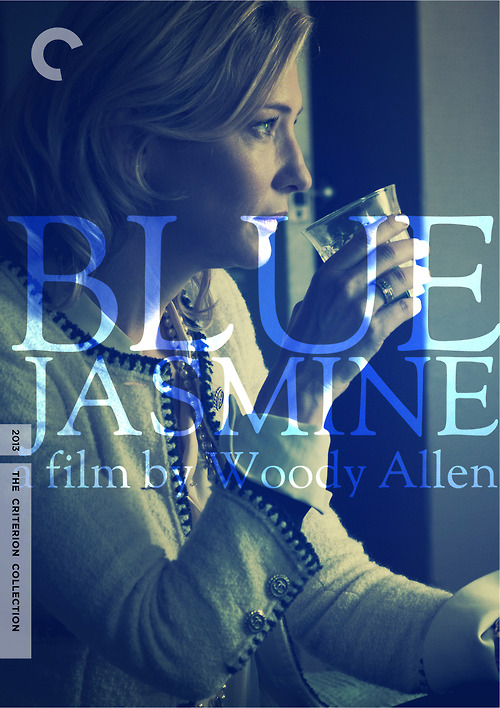 Salon have a mostly good beginner's guide to Woody Allen.
A lovely fan illustration.
#Woody #Allen #tête au #carré pic.twitter.com/euz0tbhKgz

— Florence Amphoux (@florenceamphoux) January 3, 2014
Finally, we have to nod to our mate Carl Quintanilla from CNBC. A big Woody Allen fan, he recieved the coolest gift recently.
@AJ_Koch @woodyallenpages omg you're right. It's the skyline! pic.twitter.com/NribOg2CUy

— Carl Quintanilla (@carlquintanilla) January 9, 2014