Music Of Woody Allen Films – a new irregular feature about the musical compositions that have helped to make Allen's films sing.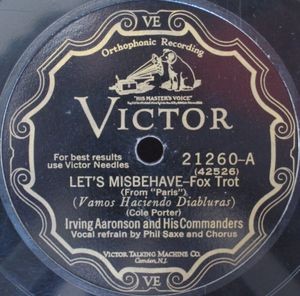 Let's Misbehave
Written by Cole Porter in 1927
Used in Everything You Always Wanted To Know About Sex* (*But Were Afraid To Ask) and Bullets Over Broadway.
Woody Allen has said it several times and it bears repeating – Cole Porter is his favourite songwriter. Allen has gone to the Porter well almost 20 times, almost half his films. There is one song he has used twice (technically three, maybe even four times) – Let's Misbehave.
Porter towers in the story of American popular song. He was commercially succesful, writing dozens of hits and several hit musicals, he was also showered with acclaim. After a stint abroad, in 1927 and at the age of 36, he returned to Broadway for his first stage hit called 'Paris'.
Let's Misbehave started life as a cast off. Originally written for 'Paris', it was cut after a few performances (for a song that we will get to later in our series). Later, Porter would remark that the song lacked subtlety. But Porter did not forget about the song, and would later include it in a 1962 revival of his own 1934 musical 'Anything Goes'.
The first act to record it was Irving Aaronson and his Commanders in 1927, and has gone on to be the most popular version. It is this version that Allen has used in two films – to both open and close 'Everything You Wanted To Know About Sex* (*But Were Afraid To Ask)' and 'Bullets Over Broadway'. He also included the song in the libretto of the Bullets Over Broadway Musical.
It is clear that Allen loves this song, and it certainly connects with his anarchic comic spirit. He's not a subtle comic, and this is not a subtle song. It was a bawdy, low humour song in 1927, and 'Everything You Always Wanted To Know…' was certainly bawdy low humour.
But by 1994 and 'Bullets Over Broadway' there is a sense of irony. That misbehave became about right and wrong, and that film's moral message is mixed up in all the farce and slapstick. Misbehaving – over stepping what is right and its consequences – is a theme that appears over and over in Allen's career.
Porter's own feelings aside, it is a wonderful number. The melody is effortless and timeless. The lyric is the selling point – Porter seems to be overflowing with ideas, metaphors and toppling over himself with more great lines. It remains a crowd pleaser, and perhaps pleasing the crowd will always irk true artists.
The song has been used in many films. Elvis Costello sung it in the Porter biopic 'De-Lovely'. It was used in the recent remake of 'The Great Gatsby'. Most wonderfully in 'Pennies From Heaven', directed by Herbert Ross (who directed Play It Again, Sam), a great scene features Christopher Walken (Annie Hall) and Bernadette Peters (Alice).
That playfulness of Porter is what makes him so right for Allen's films. No matter how serious things get, there's always a wicked wit about Porter – and the same can be said for Allen. He would even use Porter as a real character in his film Midnight In Paris.
Porter would go on to have tragic later life, after a horse-riding accident in 1937 left in disabled and in constant pain. He still wrote some great stuff, but his legend was already set by then.
Allen has used well over a dozen more songs peppered throughout his films. No doubt we will return to him. Meanwhile, here's two of the cast members of the 'Bullets Over Broadway' musical – Brooks Ashmanskas and Helene Yorke – performing the song last year.
Find all our the stories in our Music Of Woody Allen Films series. What song should we look at next?