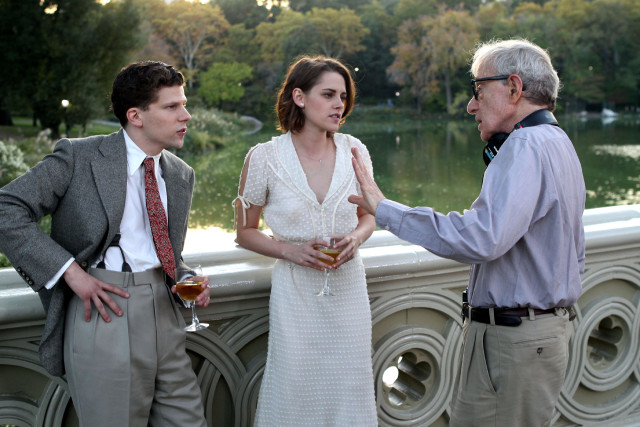 Woody Allen has wrapped his 2016 film. After one of the longest shoots of his career, the film is finally in the can and Allen will head into post production. Page Six visited the set on the last day, and Allen dropped some details about the upcoming film.
Minor spoilers!
The scene being shot on the last day involved Jesse Eisenberg and Kristen Stewart kissing on Bow Bridge in Central Park. Shooting started at 6am, and over the course of the day. It ended with a wrap party later that night. The schedule in total was 41 days.
Allen used the same location in Melinda And Melinda.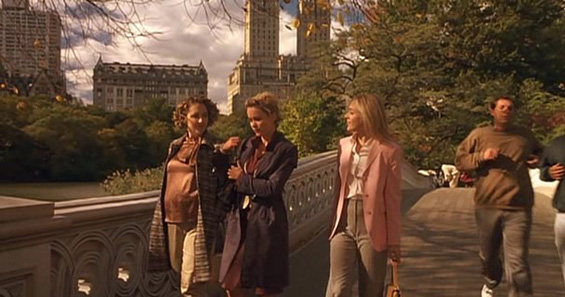 The bridge can also be seen in Manhattan.
Lots of revelations, the big one being the name. From Allen himself:
No title yet. If it comes out good, it's an aggressive title, maybe 'Poets of New York.' If it's not good, it gets a quiet nothing title like 'Rain in the City.'
Poets Of New York. What do you reckon? It's growing on us.
There was also a snippet of plot details.
The movie's about reliving an old romance. She eventually married his boss. But as passion's rekindled they schlep about in a horse carriage and sip wine.
So Stewart and Eisenberg are love interests. We assume Steve Carell plays the boss (Eisenberg was seen driving Carell's character around – when that character was Bruce Willis).
Allen's producer (and sister) Letty Aronson also revealed why Central Park was chosen.
This is a New York love story in the '30s. You can't set a romantic scene at Grant's Tomb. I originally picked a boat in the East River, but skyscrapers clashed with the '30s. So, it's the park.
Allen also talked a bit about Stewart.
No junk makeup on her eyes and lips. The light's soft on her. She's good-looking, and we're better getting shots early so makeup people don't rush out, fix this, add that and put too much junk on her.
More at Page Six.
And that is indeed a wrap! We'll be doing a comprehensive wrap up this week of everything we know. Check out all our previous coverage.