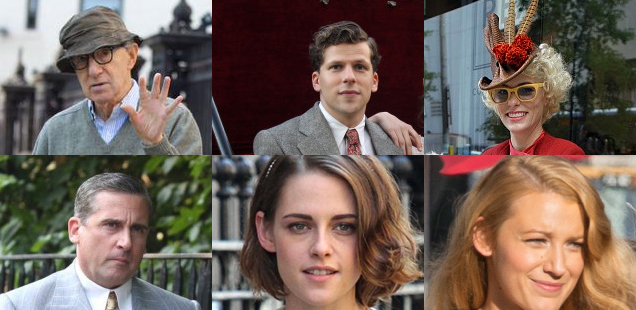 Production has wrapped on Woody Allen's 2016 film. Which is a good time to wrap up everything we know about the film so far. This is a mix of things that have been announced, things we learnt during production and a little bit of guess work.
We are going to do this in two parts. Part two here.
Minor spoilers!
The film.
This is Woody Allen's 46th film, continuing his decades long habit of a film a year.
There is no title for the film, although Allen has stated it could be 'The Poets Of New York' or 'The Rains Of New York'.
UPDATE: the films is called Café Society.
The premise.
We've only heard bits and pieces, but here's what we know.
It is a love story that spans New York and Los Angeles over several years in the 1930s. The cast involves several families played by a large ensemble cast. Mixed in is the mob, nightclubs, elegant parties and old Hollywood.
The story will focus on James (Jesse Eisenberg) and Theresa (Kristen Stewart). It looks like their romance gets sidetracked with moving cities, and complications rise with other characters. James' boss Aaron (Steve Carell), who seems to be a Hollywood bigwig, and Kat (Blake Lively), a nightclub performer, perhaps singer.
The major cast.
Jesse Eisenberg is the star, James. It looks like his story – someone from New York who moves to LA. Eisenberg was involved in almost all the shooting, in both NY and LA. Eisenberg worked with Allen before, in To Rome With Love.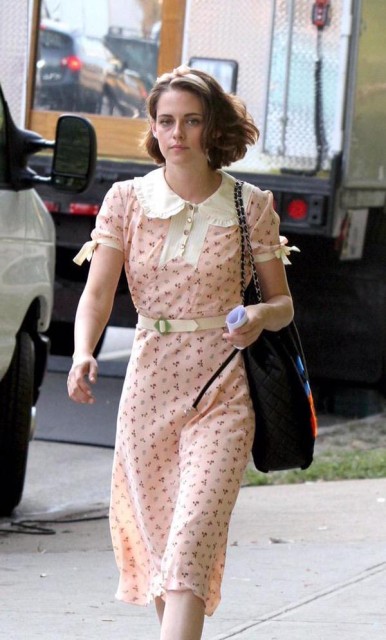 Kristen Stewart is Theresa. James' long time love interest. Stewart has described her character as bubbly and bright – a change for her. Stewart was in many scenes, with and without Eisenberg. Her first time working with Allen, it is her third time working with Eisenberg.
Steve Carell is Aaron. Bruce Willis left the role early in the shoot. Most of the character's scenes were shot in LA, with Eisenberg driving the character around. Carell was also in scenes that were Hollywood star parties. He wore a fatsuit for the shoot. Carell's second time working with Allen, the first was Melinda And Melinda.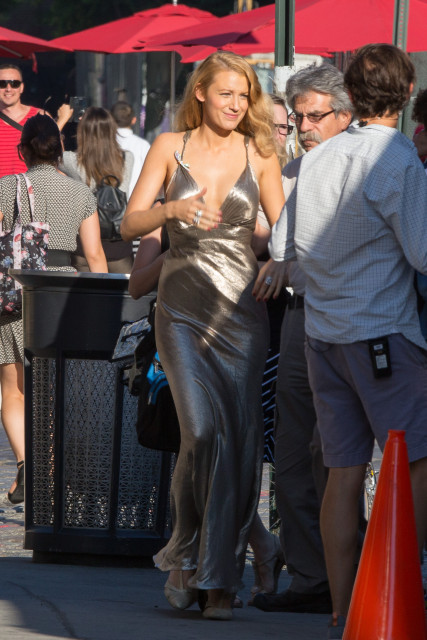 Blake Lively is Kat. Lively was only spotted looking very glamorous, in a silver dress and film star hair. Her scenes were usually in ballrooms and theatres, when music was performed. So she could be a singer, or she could be an actress. Either way, she seems set up to be the glamorous foil to Theresa.
The other cast
Despite the huge cast, we only got confirmed sightings of one other actor – Parker Posey – in an unknown role, but looking quirky and wild. It is her second Allen film in a row after this year's Irrational Man.
The other main cast members are Jeannie Berlin, Corey Stoll (who appeared in Midnight In Paris) and Ken Stott. We know nothing of their roles. As we know the film is about families, perhaps they are James' mother, brother and father?
In a very early interview, Allen mentioned Judy Davis. She has not been mentioned since, although she is on the IMDB page. A recent interview with her confirms she will not be in the film. We wonder if she was to play Berlin's role. Max Adler, also announced to be in the film, has also dropped out (to star in a Clint Eastwood film).
The co-stars
We didn't see the co-stars either – although Anna Camp did appear in New York and tweeted her script. Her character's name is Candy.
Tony Sirico, who has worked with Allen many times, is onboard. Is it too typecasting to just assume he is part of the mob element? He did play a cop in Deconstructing Harry.
The rest of the officially announced cast – Stephen Kunken, Sari Lennick and Paul Schneider – were not spotted and we have no idea about their roles.
Of the cast not announced, two interesting names appear. Conal Fowkes, the piano player in Allen's regular jazz band, is confirmed to appear and performs. Also, Tom Kemp is listed on IMDB. It is his third time working on an Allen film (following Blue Jasmine and 'Irrational Man').
Tomorrow – part 2 of our wrap up, we talk production, the crew, the locations and more.
Find all our previous coverage of Woody Allen's 2016 film.