News Bits! Our twice monthly round up of Woody Allen bits from around the web.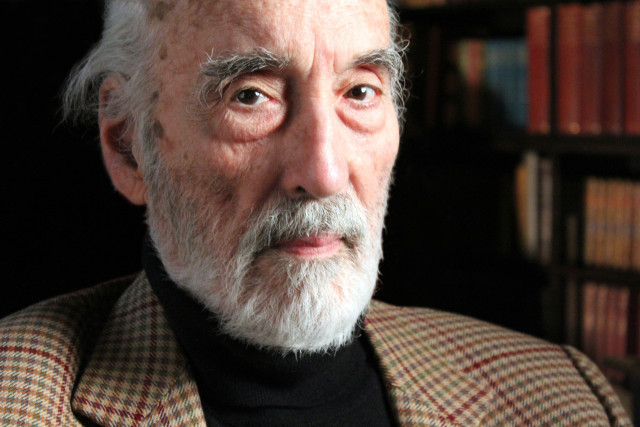 The film world were saddened to hear about the passing of Christopher Lee, and so were we. He appeared in dozens of films we loved – from 'Lord Of the Rings', 'Hugo' and, our personal fave, 'The Wicker Man'.
Despite his long career, Lee never appeared in an Allen film. However, they both attended the Royal Film Performance in Odeon, Leicester Square, London in 1966, and both met the Queen. It is immortalised in a couple of photos and on film (although you just see Lee's shoulder). Look at the height difference!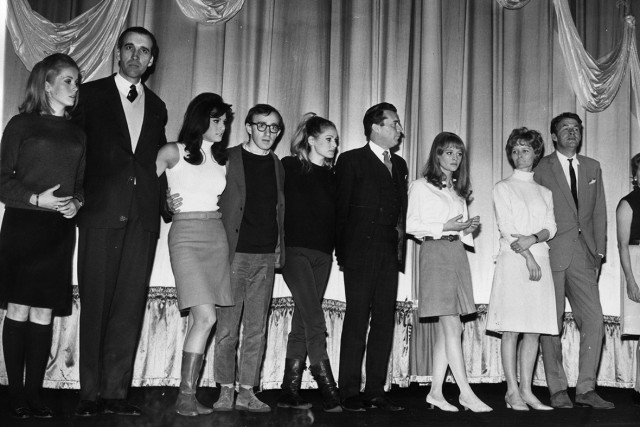 In case you were wondering, the film they saw that night was 'Born Free'.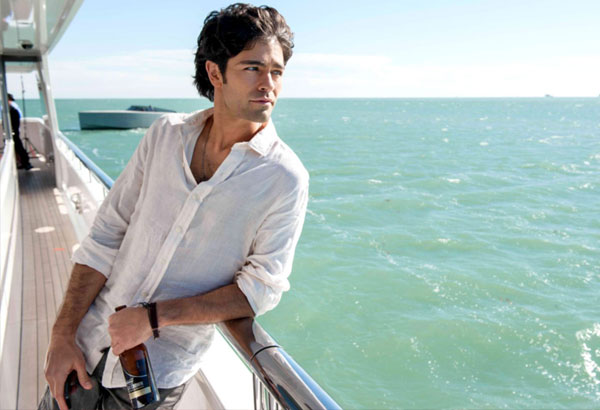 Adrian Grenier has been out promoting the 'Entourage' film, and stopped by The Tonight Show. Host Jimmy Fallon points out that they both appeared in the same Woody Allen film – Anything Else (Grenier also appeared in Celebrity). Both Grenier and Fallon shared their audition stories on the show. Watch the video!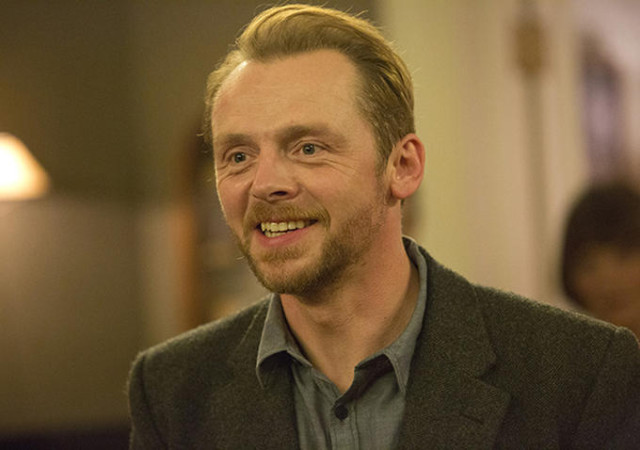 We love Simon Pegg. The British star is starring in 'Man Up', which is being praised as a classic romantic comedy. He's not a typical rom-com leading man, but Pegg understands that can work, as he told Xpose.
I love romantic comedies. I've always been a fan of Woody Allen and the late-70s period, 'Annie Hall', 'Manhattan' those films are gorgeously romantic and full of love. Woody Allen isn't a traditional leading man and yet he's been in the best romantic comedies ever written.
Here's the trailer to 'Man Up'.
Jurassic World is swallowing up the box office. The film might not immediately share anything with Allen, but director Colin Trevorrow reckons Allen has helped shape his filmmaking, as he told Den Of Geek.
I love Woody Allen too. I feel like, whatever movie I was making, there would always be moments of human intimacy and insight into a little bit of what makes us tick as people.
Trevorrow proved his love for Allen by choosing Annie Hall as one of his five favourite films (with Rotten Tomatoes).
Woody Allen movies are like Beatles songs. I can't name my favorite without you immediately naming a better one. But this one tops the list for me. It invented the modern romantic comedy while simultaneously deconstructing it. It's skeptically romantic, like most of us. Like a child's imagining of what adult life is probably like, it's filled with the kind of hilarious nonsense that defined Woody Allen's standup and early writing, which I also loved. I recognize the mastery of Crimes and Misdemeanors. And Manhattan. Hannah and Her Sisters. I was floored by Blue Jasmine, which I'd put up there with his best. But this one, man it just nailed a tone I've never seen again. I immediately applied to NYU with every intention of meeting a woman who wears a tie.
The Internet is full of useless lists, but we found a great one this week, on Spanish site Enfilme.com. It is 50 cameos of directors in other director's films. Woody Allen has had two director appear in his films – Nora Ephron in Husbands And Wives (and also 'Crimes And Misdemeanors', both as unnamed party guests) and Rob Reiner in Bullets Over Broadway. One of Allen's acting roles makes the list – his appearance in Jean-Luc Godard's 'King Lear' (video below).
A way less essential list but still fun. Fictional characters based on real people. According to Cracked, Rocko is based on Allen.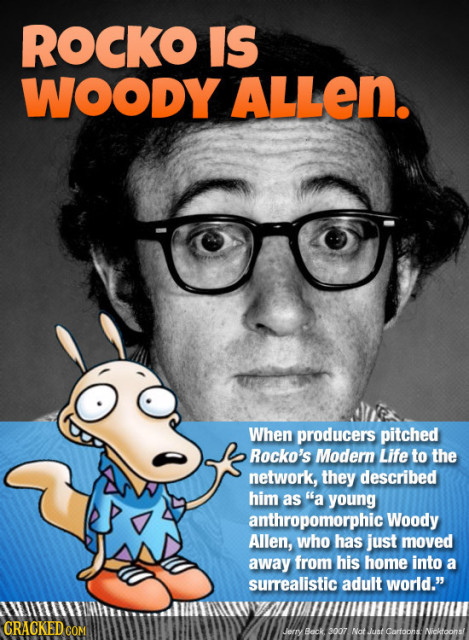 Final list – Taste Of Film looked at ten films that influenced Allen. They start with 'The Seventh Seal' by Ingmar Bergman and 'The Road to Morocco' by David Butler (starring Bob Hope).
Fan art corner!
Woody Allen drawings for a new @EsquireClassics video. Animation by @quotedstudios @scribblejunkie #woodyallen pic.twitter.com/KtPdNnR8U7

— Joe McKendry (@JoeMcKendry1) June 9, 2015
Sketchbook art by heidimillustration The many faces of Woody Allen featuring in my moleskine this Saturday.
Which … pic.twitter.com/qL56t9ZVxl

— Old Church Works (@oldchurchworks) June 13, 2015