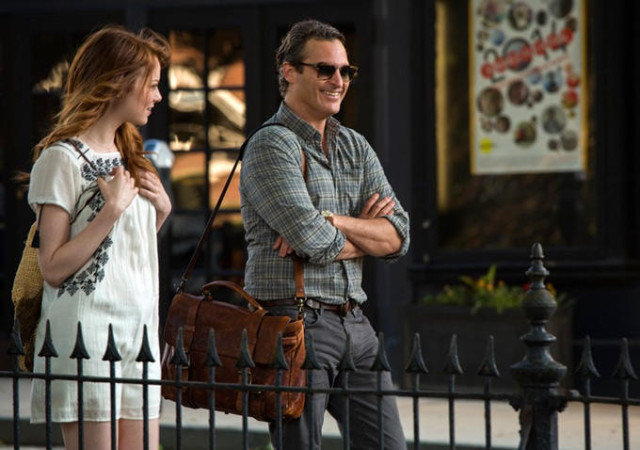 Irrational Man is the latest film written and directed by Woody Allen. It opened in Italy this week, and was the last big European country to release the film. The Italian distributor made some cool e-cards, and there's a new box office update.
The global box office is now $22,034,318.
Leading the charge is France ($6.3m), US ($4.0m), Spain ($2.5m) and Germany ($1.2m). Italy opened with $798k, a disappointing effort for Allen, although it did open against Star Wars: The Force Awakens.
The film will probably not make it past the $23m mark, and $24m seems out of range. Overall, a disappointing effort, although the R rating and lack of promotion from the principal stars would have hurt the film.
Warner Bros Italy released the film there. They made some cool e-cards for the film's release and their poster, heavily featuring stars Joaquin Phoenix and Emma Stone.
.@la_stampa descrive così #IrrationalManIt, l'ultimo film di @woodyallen, al cinema dal 16 dicembre. pic.twitter.com/3axSMgrDDI

— Warner Bros. Italia (@WarnerBrosIta) December 3, 2015
Tra UNA SETTIMANA il nuovo film di Woody Allen con Joaquin Phoenix è al cinema. #IrrationalManIT pic.twitter.com/nfof8fJ9rv

— Warner Bros. Italia (@WarnerBrosIta) December 9, 2015
Buon Compleanno, #EmmaStone! L'attrice sarà al cinema in #IrrationalManIT dal 17 dicembre. pic.twitter.com/KsUe58Z41c

— Warner Bros. Italia (@WarnerBrosIta) November 6, 2015
Joaquin Phoenix ed Emma Stone sono i protagonisti di #IrrationalManIT, il film di Woody Allen al cinema dal 17/12! pic.twitter.com/gLDnPLRcLI

— Warner Bros. Italia (@WarnerBrosIta) October 22, 2015
This is probably our last Irrational Man box office update. With home releases announced and the year wrapping up, we know look out for the 2016 film…