Music Of Woody Allen Films – a new irregular feature about the musical compositions that have helped to make Allen's films sing.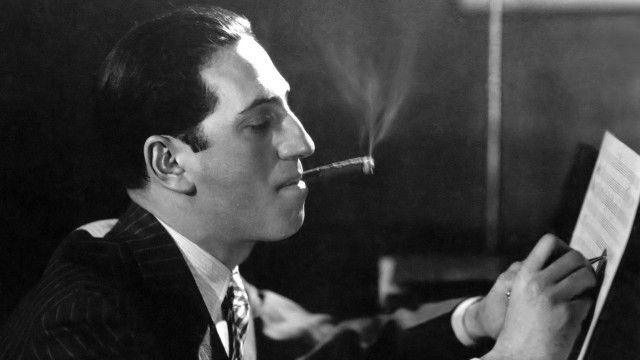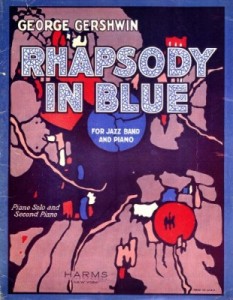 Rhapsody In Blue
Composed by George Gershwin in 1924
Used in Manhattan.
On 12 February 1924, George Gershwin took to the stage with an orchestra at the Aeolian Hall in New York City. In front of a packed house, he was there to premiere what would be his masterpiece – Rhapsody In Blue. He had been commissioned to write the piece just for tonight – a concert called An Experiment In Modern Music. Incorporating jazz and classical into a suite, it encompassed the range of American music at the time. Almost 91 years since that February night and the piece still sounds incredibly progressive.
Gershwin was just 25 years old that night, and along with his older brother Ira Gershwin, had already established themselves as top talents in Tin Pan Alley. George worked with many collaborators, and by his early 20s had written various hits for Broadway. He had never attempted anything as ambitious as Rhapsody In Blue.
He was asked to compose the piece by Paul Whiteman, who had had recent success holding more experimental classical/jazz concerts. He remembered Gershwin, who he had worked with on an opera – Blue Monday. After some convincing, Gershwin agreed to compose a piece for a concert that was only five weeks away.
Gershwin's own solo piano recording of 'Rhapsody In Blue'.
The idea for Rhapsody In Blue came to Gershwin on a train journey to Boston. He wanted to create "a sort of musical kaleidoscope of America—of our vast melting pot, of our unduplicated national pep, of our metropolitan madness."
It's that Metropolitan madness that makes it work so well in Woody Allen's Manhattan. Used in the extended opening homage, it is the perfect soundtrack to New York at all hours. From that legendary clarinet to all the rising crescendos and sudden blasts, it captures the bustle of traffic, the sound of the streets. Allen has said that it was the music of Gershwin that was the starting point for Manhattan.
It is a masterpiece. It announces itself in its opening moments, and toss memorable phrases are worked and twisted – much like the endless variations of a big city. It's the complex work of a genius, but with a joyous expression of the new. It takes a virtuoso to play it, and only one could conceive it. The composition would put Gershwin onto another level of respected composer, one he had been trying to attain for years.
Here's the opening scene, where Allen mentions Gershwin by name.
Allen, of course, loves his music of the 20s. He also plays clarinet, and that famous intro would not have escaped him. At the time, Allen had used a lot of music in his film. But the opening sequence was something different – it had a flair like that jazz Allen loves so much himself.
It's a long music section, matched with Allen's timeless monologue and the stunning black and white cinematography (by Gordon Willis). It is probably Allen's longest use of one composition in a film thus far. It sets the tone for a film filled with music, and deliberately steps out of contemporary New York – into something timeless. It's the work of two artists breaking out of pop culture, reaching more something more ambitious and substantial.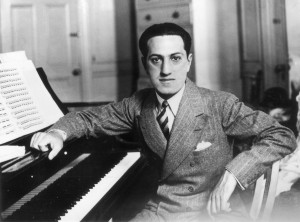 As much as Gershwin wanted to encapsulate the breadth of American music, Rhapsody In Blue has come to be about his adopted home of New York. Allen's tribute plays some part of that. He also included a full 16 and a half minute version on the 'Manhattan' Soundtrack, played by the New York Philharmonic, conducted Zubin Mehta and Gary Graffman on piano.
Manhattan uses many other Gershwin songs, some we might discuss later (and we'll likely get around to Sweet And Low Down). Like Allen, Gershwin never remained still, writing crowd pleasing pop songs to controversial and challenging orchestrations, side-by-side. Some of Gershwin's best work – Embraceable You, Someone To Watch Over Me, I Got Rhythm and, of course, Porgy And Bess – were still to come.
Sadly, Gershwin died young, at age 38, due to a brain tumour.
You can find out more about George and his brother Ira at Gershwin.com
Here's a great full strength version of Rhapsody In Blue.
There's several docos on Gershwin, but this is the best one we could find online.
That's our first Music Of Woody Allen Films column. What pieces/songs do you want us to dig into next?