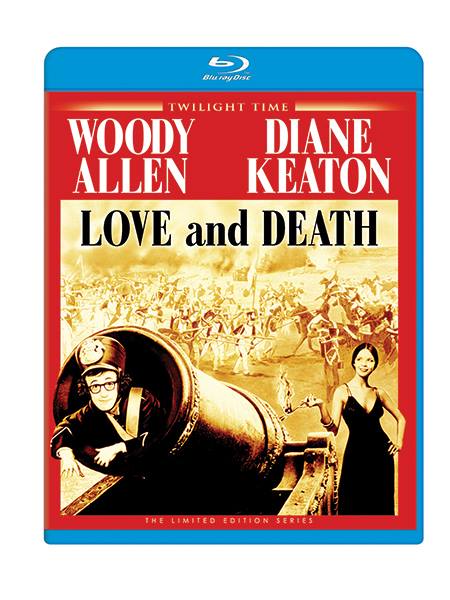 The new cover artwork for the Blu-Ray release of Woody Allen's Love And Death has been revealed. It is the first time 'Love And Death' has been released on Blu-Ray, and comes from Twilight Time. The artwork was revealed on the Twilight Time Facebook page.
Twilight Time have been releasing many Woody Allen titles. They have The Purple Rose Of Cairo due out 20th January 2015 with 'Love And Death' to follow 10th February 2015. As with all Twilight Time releases, this is a limited edition of just 3000 copies.
'Love And Death' was first released in 1975 and stars Allen alongside Diane Keaton. It is largely considered the best of Allen's early, slapstick comedies. His next film – Annie Hall – would reveal an almost completely different filmmaker altogether.
Twilight Time also posted a whole bunch of review quotes from back in the day, as well as a synopsis.
"Woody Allen's grandest work…It's Woody's homage to Tolstoy, Kierkegaard, Eisenstein, Groucho Marx, Bob Hope and maybe even Robert Z. Leonard…consistently witty."
—Vincent Canby, The New York Times

"Love and Death is [Allen's] most ambitious experiment with the comic possibilities of film…done with such care, love and lunacy."
—Roger Ebert, Chicago Sun-Times

"Tolstoy by way of Bob Hope, with enough room for Mozart and Prokofiev…the beauty of Ghislain Cloquet's cinematography is part of the joke." —Fernando F. Croce, Cinepassion

Woody Allen takes on the monolith of Russian literature—with a bit of Ingmar Bergman thrown in for good measure—with Love and Death (1975), a deadpan costume epic set against the sweeping backdrop of the Napoleonic Wars. Allen plays Boris, a philosophical coward who becomes an inadvertent war hero and then a potential assassin thanks to the encouragement of his mad(cap) wife, Sonja (the fab Diane Keaton). Shot by the great cinematographer Ghislain Cloquet (Tess, Au Hasard Balthazar).
Pre-orders for this limited edition Blu-Ray will start at the end of January, from Screen Archives.