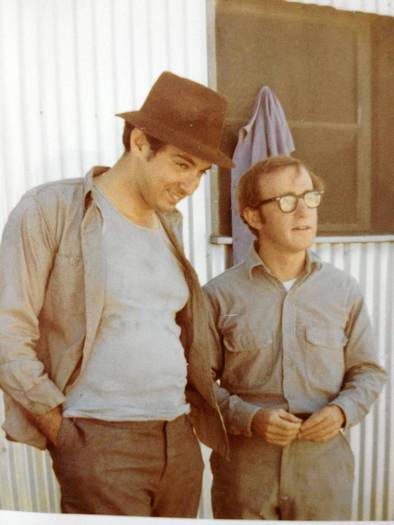 We were very sad to hear that Mickey Rose, a lifelong friend and early collaborator of Woody Allen's, has passed away. The cancer related death occurred on 7th April 2013, and an obiturary was just published in the LA Times. He was 77.
Allen released the following statement through his biographer, Eric Lax.
Mickey was one of the funniest humans I know, a true original and a total eccentric and a wonderful first baseman. "We played a lot of baseball together. Once, when I asked him what death meant to him he said, 'no more malteds.'
Allen and Rose met in art class in high school and hit it off immediately. The two friends even started a jazz band with Allen, but the two both drifted into comedy together. Rose wrote often with Allen in the 60s, and is credited for writing the famous Moose stand up bit.
Rose and Allen both transitioned into films, and he is a co-writer on Allen's first three directing efforts: What's Up Tiger Lily?, Take the Money And Run and Bananas. He is also one of the voices on 'What's Up Tiger Lily?' and part of the chain gang in 'Take the Money And Run'.
Rose went on to write for TV, for shows such as 'The Smothers Brothers' and 'The Tonight Show', as well as odd episodes of 'Happy Days' and 'Charlie's Angels'.
Rose's relationship with Allen was very deep. Allen introduced him to his future wife and is the godfather to Rose's son Qunicy. Quincy Rose is an actor, who had minor parts in Melinda And Melinda and Whatever Works just a couple of years ago. We wonder if Danny Rose is Woody's nod to his friend.
In 2011, Mickey Rose appeared in Woody Allen: A Documentary, talking about his friend.
You can read a full obituary at the LA Times.
UPDATE: had to add this great picture of Mickey Rose, his wife Judy, Allen and Louise Lasser on Rose's wedding day.