We are still living off fumes when it comes to news about Blue Jasmine, the 2013 film from writer/director Woody Allen. We are less than ten weeks from its official release (26th July in the US), and we know some people have been lucky enough to preview the film. We now have new comments from Wall Street Journal, an interview with Director of Photography Javier Aguirresarobe in which he reveals Cate Blanchett's character's name. We also have a release date for Australia.
The Wall Street Journal listed Blue Jasmine as one of the films to catch this summer. The full quote:
After venturing to Europe for his last three films, Woody Allen is back in the U.S. with this dark comedy about a Park Avenue social climber (Cate Blanchett) forced to slum it with her blue-collar sister (Sally Hawkins) in San Francisco when she loses everything. The film, co-starring Alec Baldwin and Bobby Cannavale, features inspired guest roles from Louis C.K., Andrew Dice Clay and a cameo by Ali Fedotowsky, who some may remember from the sixth season of ABC's "The Bachelorette."
Interesting, and slightly disappointing, to see Louis CK and Andrew Dice Clay are only in guest roles.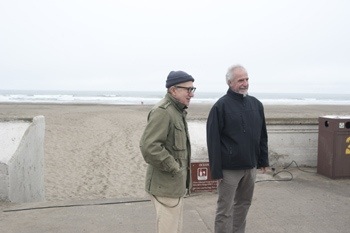 We also have a new interview with 'Blue Jasmine's director of photography Javier Aguirresarobe, from Kodak's In Camera site. Aguirresarobe last worked with Allen on Vicky Christina Barcelona. Some excerpts:
"From my point of view, the universe of Woody Allen possesses a very definite visual aesthetic that includes not only the photography but also the wardrobe, the production design, and the color palette," he adds. "My goal was to comply with this aesthetic universe — the one he wishes for his movies — and also to help him to mold his language in the making of shots and sequences."
Aguirresarobe gives away a couple of plot details. One is that New York is dealt with on flashback.
Lead actor Cate Blanchett worked with two different treatments in makeup, wardrobe and lighting. The first was for scenes depicting flashbacks to her life in New York City, where she lived an abundant existence. The second treatment is set in San Francisco, where she is searching for a new way of living. San Francisco is the setting for conflict, and New York is the setting for opulence.
And we have confirmation on Blanchett's character's name, and Michael Stuhlbarg's role.
As an example, Aguirresarobe points to a long take in which Jasmine, played by Blanchett, is harassed by a dentist, played by Michael Stuhlbarg. "The sequence was practically solved with a single shot in a minimal space – the reception area of a doctor's office," he says. "The efficiency and expressiveness of the scene is mainly due to both actors, but the position and movements of the camera also give it a touch of authentic realism."
Check out the Kodak site for a lot more details about the shoot.
Finally, we updated another major market in our round up of Blue Jasmine Release Dates. According to cinema listings, 'Blue Jasmine' will open in Australia on 5th September. We are constantly updating our release dates page.
(Thanks to reader rosesarered for the tips!)