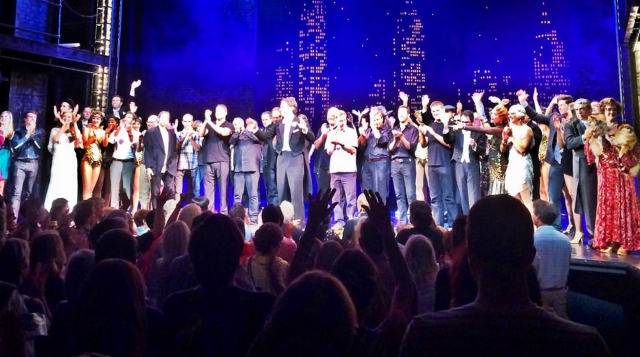 The Bullets Over Broadway Musical has closed on Broadway. The show is based on the 1994 film by Allen (and co-writer Douglas McGrath), with Allen writing the book. Directed by Broadway legend Susan Stroman, it officially opened in April, but has been in previews since January. Seven months later, it has ended its run and the stars – Brooks Ashmanskas, Zach Braff, Nick Cordero, Marin Mazzie, Vincent Pastore, Betsy Wolfe, Lenny Wolpe, Helene Yorke and Karen Ziemba – will all go their separate ways.
It's been a long journey for the musical. Announced over two years ago, it was slated to be a big budget, big production number. The crowd pleasing show was not loved by certain critics, and lost out to a strong field in the Tony Awards earlier this year.
The big discovery was Cordero. Nominated for his first Tony, his performance was the break out. It was Braff's first Broadway production and it was his name carrying most of the weight. He did an amazing job, and somewhere along the line finished his wonderful second film ('Wish I Was Here') as well.
Braff spoke to People Magazine about the end.
"I am exhausted!" Braff, 39, told PEOPLE at an "appreciation party" that his co-star, Vincent Pastore threw for cast members at The New York Beer Company in Manhattan after their Thursday show. "But I had more fun doing this than in any other time in my life."
Co-star Pastore also got a word in.
"I've been doing the show since Jan. 15 and it's been great," he said. "I never missed a rehearsal or a show. My understudy hates me!"
During the final performance, the cast got a standing ovation in the middle of the performance. Braff and Mazzie were both moved to tears. And it looks like everyone involved, no matter how behind-the-scenes, got to take a bow.
Y'all @zachbraff and @BulletsOverBway are both amazing never seen a standings ovation in the middle of a performance pic.twitter.com/bINCAt7EMf

— Allen Blackwell (@allenXblackwell) August 25, 2014
One last standing ovation for the amazing cast, crew, musicians & team of @BulletsOverBway! #Broadway pic.twitter.com/wGWx0MUBKO

— Jordan Roth (@Jordan_Roth) August 25, 2014
Amazing last performance of @BulletsOverBway – very moving to see @zachbraff and @MarinMazzie shed a few tears.

— Alan Bennett Ilagan (@alanilagan) August 24, 2014
It's been an amazing year for the cast. The show, now made, will hopefully see a life outside of New York. But there is something special about that original cast of any production. Until we see it again, there's the wonderful soundtrack.
We want to say something profound but Helen Sinclair will just hold her hand over our mouths and ask us not to speak. So we'll leave it….