Shadows And Fog is one of the strangest films in Woody Allen's canon. It's a 90 minute, black and white allegorical play about death and religion. Lucky for Woody Allen that by this point, it had been decades since he had to pitch a film to anyone.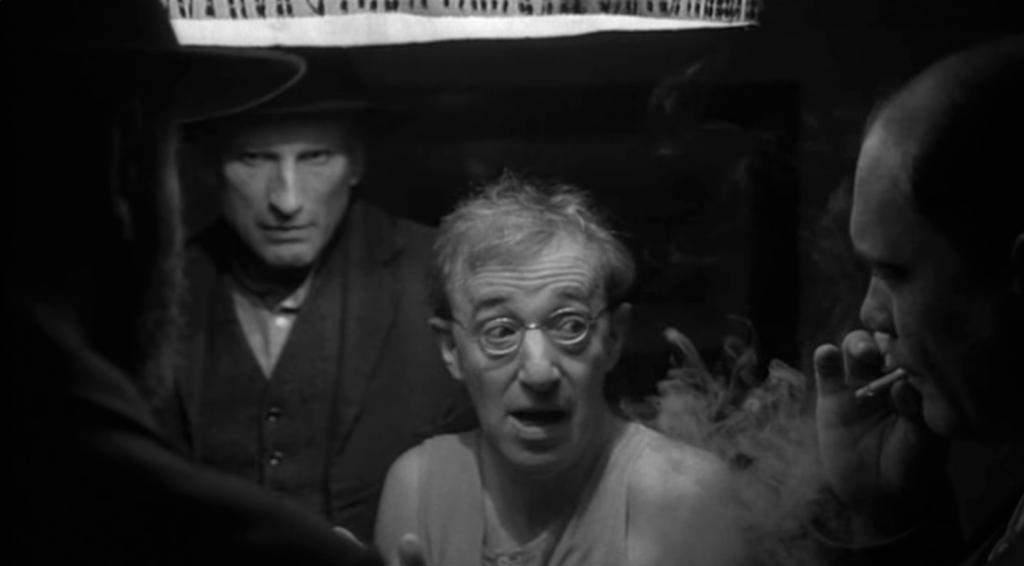 Woody Allen stars as Kleinman, returning to being the sole lead for the first time since … He lives in a town that resembles old German experimental films by directors such as Fritz Lang. It's a strange allergorical place – always night, always foggy, and it looks like some strange abstract version of Victorian London. The town is plagued by a killer. Kleinman has been roped in to search for the killer, but is given little or no facts to work with, and soon left on his own.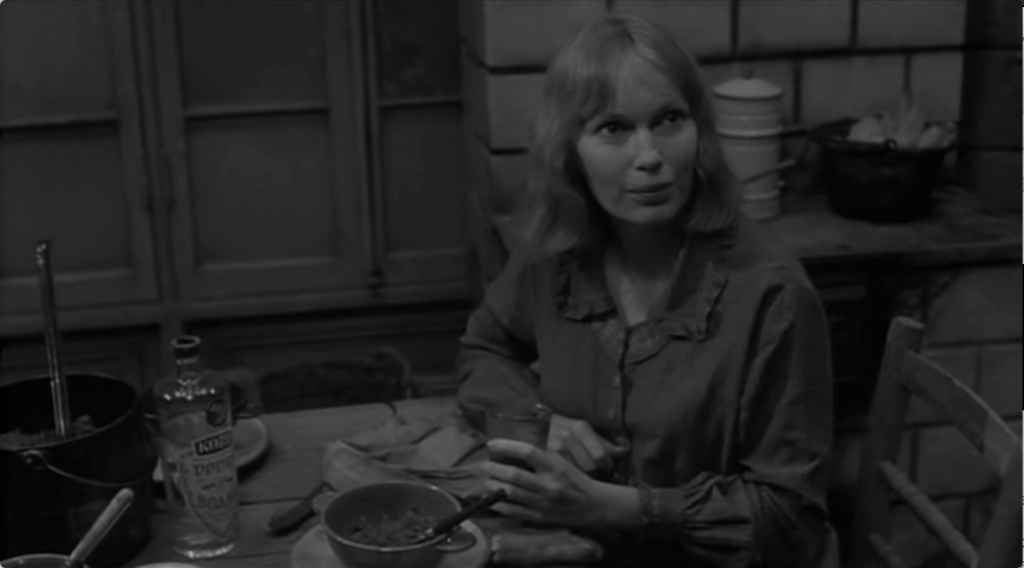 Mia Farrow also stars as Irmy, a circus sword swallower who escapes her unfaithful husband on the same night, and embarks on her own adventure. She finds passion in the arms of John Cusack's Jack, and eventually finds a baby girl to call her own and look after.
If that all sounds a bit weird – well then it's all one pretty open book once you watch the film. The killer is death, and the panic of the towns folk reflects humanity's struggle with it. Most tellingly is when the town splits into factions about how to deal with the killer, and then start killer eachother over it.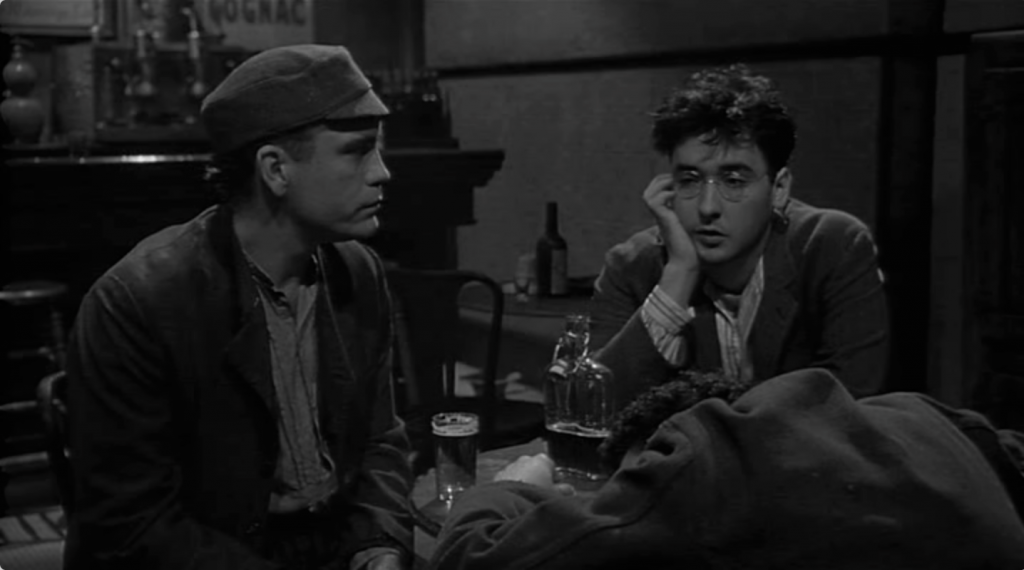 The performances are good, although none of the fireworks of some of Allen's character pieces. The people here are metaphors, and they don't have much to do. Madonna, John Malkovich and others all play one note characters. Although Juliet Taylor sure had a field day with the casting. Just some of the background faces that make short cameos here include John C Reilly, Jodie Foster, William H Macy and more show their faces as little more than extras.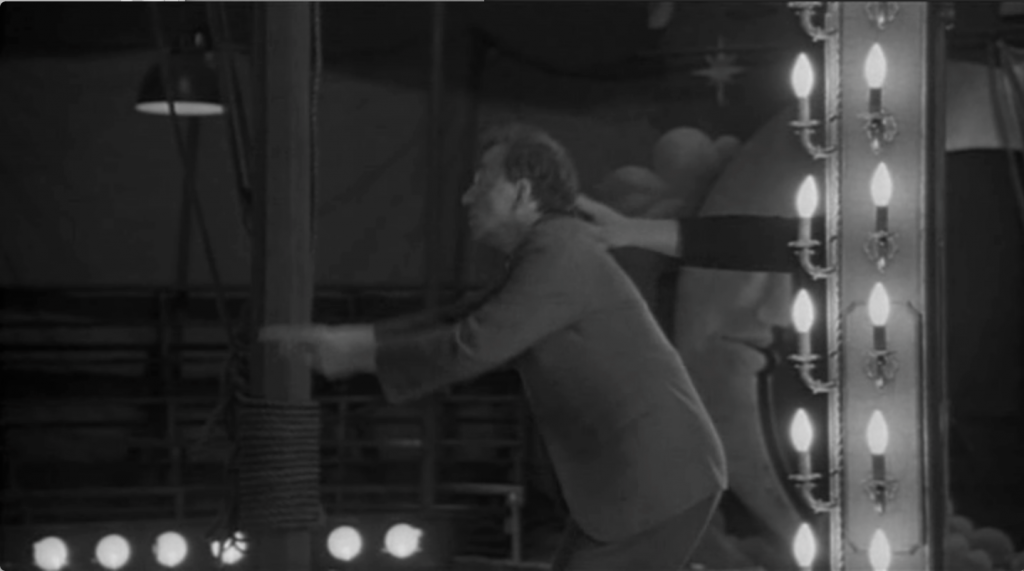 Visually, it's one of Allen's most striking looking films. It's dark and dramatic and surreal. It follows shades of Stardust Memories with stunning faces, extreme blacks and farcical tones. Although mostly obscured in fog, the set looks amazing (and apparently, one of the biggest sets ever built in New York). The staging and blocking is interesting and unique in Allen's career.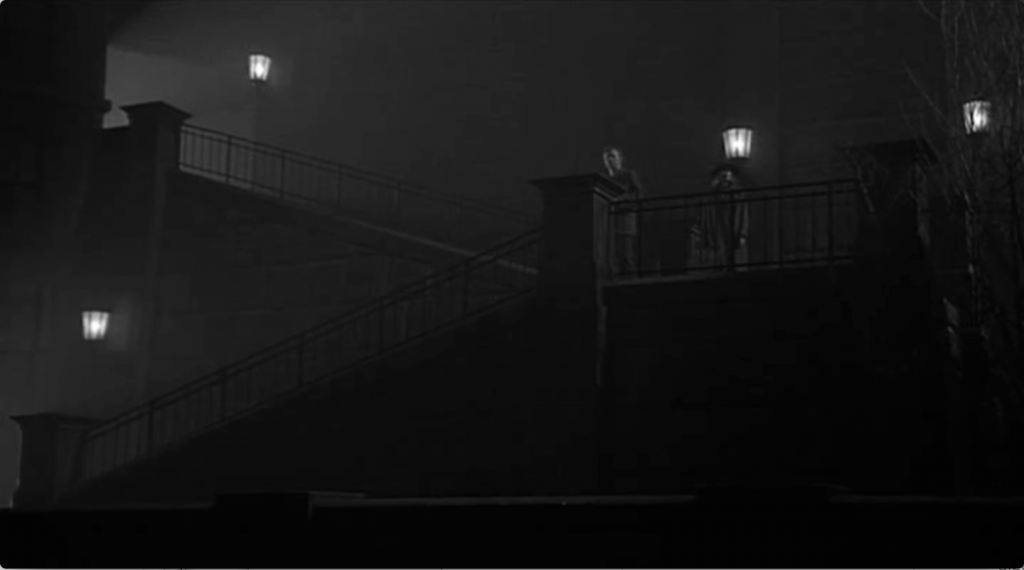 But is it any good? It's a bit slow, and takes a little to adjust to the world of the film. But ultimately it's an interesting little mystery, and it keeps you guessing. The characters do what they do, and Mia Farrow once again is heartbreakingly watchable. It's not the place to start with Allen, but it's a fine absurdity.
Full cast: Kathy Bates, Philip Bosco, Charles Cragin, John Cusack, Mia Farrow, Jodie Foster, Fred Gwynne, Robert Joy, Julie Kavner, William H Macy, Madonna, John Malkovich, Kenneth Mars, Kate Nelligan, Donald Pleasence, Wallace Shawn, Kurtwood Smith, Josef Sommer, David Ogden Stiers, Lily Tomlin