Production has wrapped on Rifkin's Festival, the apparent name of the 50th film to be written and directed by Woody Allen. It is set to be released in 2020, and here is our wrap up of all the details released so far. Warning: minor spoilers.
The Story
Here is what The Hollywood Reporter said about the film when it was announced.
The story centers on a married American couple who go to the San Sebastian Film Festival and get caught up in the magic of the event, the beauty and charm of Spain and the fantasy of movies. She has an affair with a brilliant French movie director, and he falls in love with a beautiful Spanish woman who lives there. The pic is a comedy-romance that resolves itself in a funny but romantic way.
Allen later elaborated in a press conference in San Sebastián.
"I'd like to convey to the world my view of San Sebastian the way I conveyed my view of Paris or New York to people," Allen said. "The movie is basically a personal story of relationships, a made-up story of relationships and hopefully an amusing situation and a romantic one," he noted, adding that "of necessity, there will be a certain amount of homage to cinema because that's what film festivals started out to be and that was my experience of the San Sebastian Film Festival."
Without getting into spoilers, set photos seem to suggest that's not all there is to the film. There looks to be some fantasy sequences or magical realism at play. We also know that the American couple meet a Spanish couple who also play a significant role in the film.
Other than that, we know very little. The magical/fantasy aspect has meant that some outlets are comparing the film to Midnight In Paris. It certainly sounds like it's a change from the serious drama of Wonder Wheel, or the indie mumblecore-ish A Rainy Day In New York.
The Setting and Production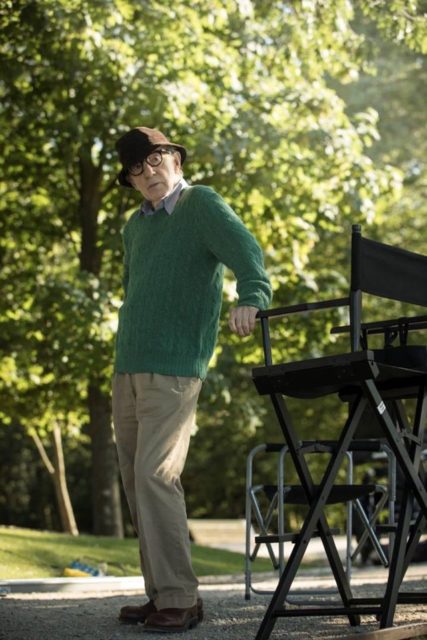 Rifkin's Festival will see Woody Allen return to Spain. In particular, the film will be set in San Sebastián, in particular at the San Sebastián film festival. Allen and his team shot the film at the real San Sebastián. Production started on 10 July 2019 and wrapped on 16 Aug 2019 (a week ahead of schedule). The real festival started in September.
The event's director, José Luis Rebordinos, told IndieWire
"We are delighted to have a master of the stature of Woody Allen shooting in San Sebastian and, in addition, that the film takes place at the San Sebastian Film Festival," Rebordinos said in a statement. "It is a unique occasion for both the city and the Festival."
Allen is no stranger to the festival, or Spain. Allen made Vicky Cristina Barcelona (2008) in Spain and that film played at the San Sebastián Film Festival. 2004's Melinda And Melinda opened that year's festival. Allen has been awarded the festival's highest honour – the Donostia Award.
The cast and crew
The American couple at the heart of the story are played by Wallace Shawn and Gina Gershon.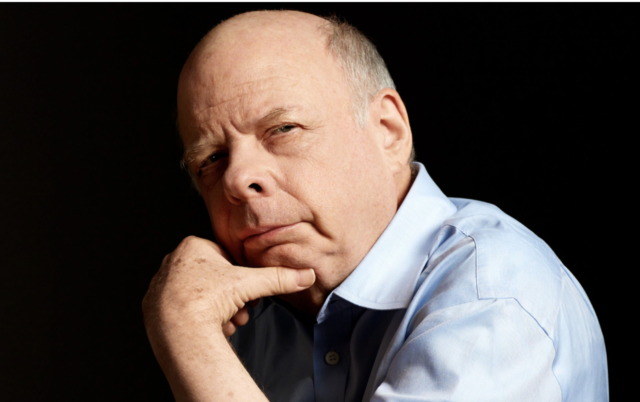 This will be Shawn's sixth film with Allen. He was 'discovered' by Allen and first appeared in Manhattan (1979) and also worked with Allen on Radio Days (1987), Shadows And Fog (1991), The Curse Of the Jade Scorpion (2001) and Melinda And Melinda (2004). He is best known for roles in The Princess Bride (1987), My Dinner With Andre (1981), a voice actor in the Toy Story films and brilliant in TV shows from Star Trek to the recent Mozart In The Jungle.
We are going to go out on a limb here and say that Shawn plays Rifkin. At the film's press conference, Shawn said:
"He discovered me and there's a special magic about filming with him once again; it's something very beautiful," Shawn explained. "It's his dream and we walk through that dream."
His wife is played by Gershon. She has had a long career, starring films like Cocktail (1988) and Showgirls (1995). She was recently brilliant in Killer Joe (2011). Like everyone, she has had lots of TV credits lately, in shows like Riverdale and How To Make It In America. This is her first time working with Allen. She said at the press conference:
"I am so thrilled to be here. This feels kind of like a dream come true."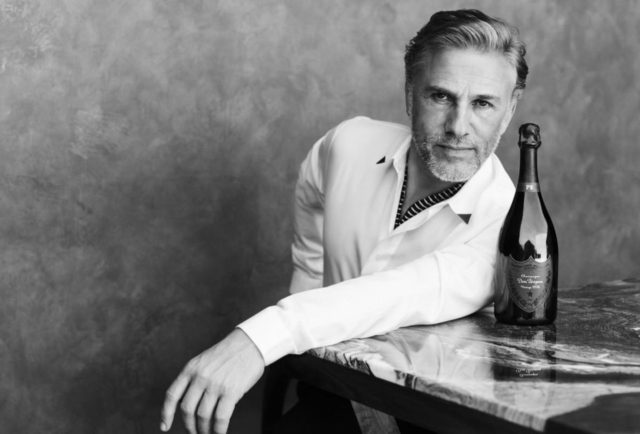 Christoph Waltz also stars in the film. His role, at least as spotted on set photos, is to play Death. He might also play someone else. It is a very Seventh Seal version of Death.
Waltz is a two time Academy Award winner, winning for his work in Inglorious Basterds (2009) and Django Unchained (2012). He's been a Bond villain and brilliant in smaller scale films like Big Eyes (2014). This is his first time working with Allen.
Elena Anaya stars in the film. She is best known for her breakout role in The Skin I Live In (2011) and appeared in Wonder Woman (2017) and even a Justin Timberlake film clip. We assume she plays Rifkin's other love interest. Her character is a doctor who is married to…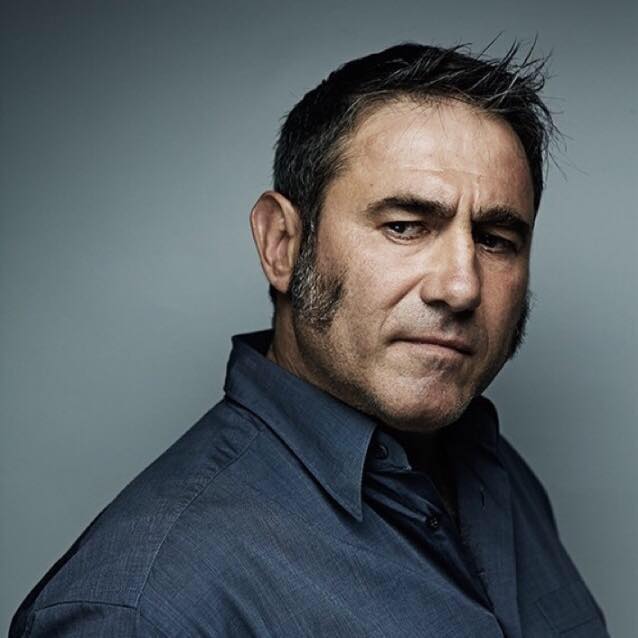 Sergi López. The Spanish actor has been in films like Dirty Pretty Things (2002), Pans Labyrinth (2006) and The Man Who Killed Don Quixote (2018). He plays a painter and the husband of Anaya's character.
López spoke to Fotogramas
"I thought that being Woody Allen was going to be a tense shoot, but the atmosphere has been quite the opposite, very sweet, and we even finished days ahead of schedule. Allen doesn't tell you anything if he likes what you're doing and only makes comments when he thinks something is wrong. "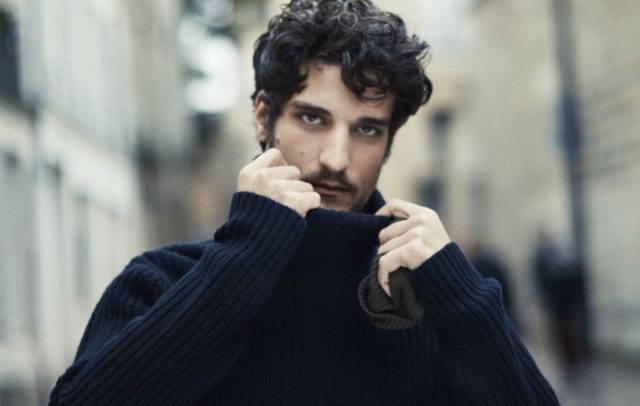 Louis Garrel stars in the film. Garrel made his breakthrough in the film The Dreamers (2003), before starting in many French language films. He recently appeared in Little Women (2019). He's French so maybe he's the director. There are more handsome men on the planet but none come immediately to mind.
Raquel, I'm the one with the glasses and the thoughts of Cassius Dio. Brush on your Roman history and you'll see the resemblance. https://t.co/yMFlutRmIo

— Steve Guttenberg (@SteveGuttbuck) July 27, 2019
Not announced but part of the cast according to IMDB is Steve Guttenberg. Guttenberg's social media suggests he was in Spain (and in quite a makeup job). And he has worked with Allen before, starting in a Woody Allen one act play called Honeymoon Hotel that was part of 2011's Relatively Speaking. He is best known for his work in the Police Academy films, the Three Men And A Baby films and much more. Here's Guttenberg talking about Allen to Broadway.com in 2011:
He's the top guy walking the planet, for sure, in both film and stage. The guy is just such a master at what he does and also a very, very pleasant and collaborative fellow. Working for him is exciting because he knows the answer to pretty much every question, and he does it with great charm and delight.
Other announced cast members include Luz Cipriota, Enrique Arce and Damian Chapa. Two of Allen's regular players return. Bobby Slayton appeared in Wonder Wheel and Crisis In Six Scenes. Douglas McGrath has appeared in four Allen films, and co-wrote Bullets Over Broadway with Allen. Richard Kind was also spotted on set, so who knows.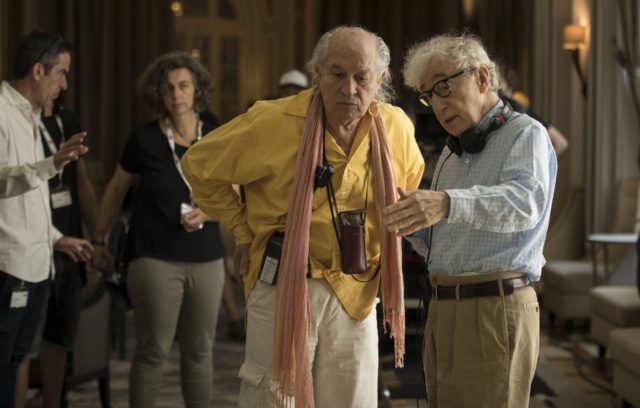 Returning as director of cinematography is Vittorio Storaro. It is his fourth film in a row with Woody Allen, a collaboration that began with Café Society.
Locations and sets
Production was seen at La Concha Bay, near the the statue called The Comb Of The Wind and Zumaia Beach. There were scenes filmed on a boat and a scene filmed where a car breaks down. One elaborate sequence was shot in a beautiful country manor. The real locations use for the San Sebastián film festival were used, as was the Maria Cristina Hotel.
The most fun part for us is the number of posters for fake films. Some production designer had a lot of fun.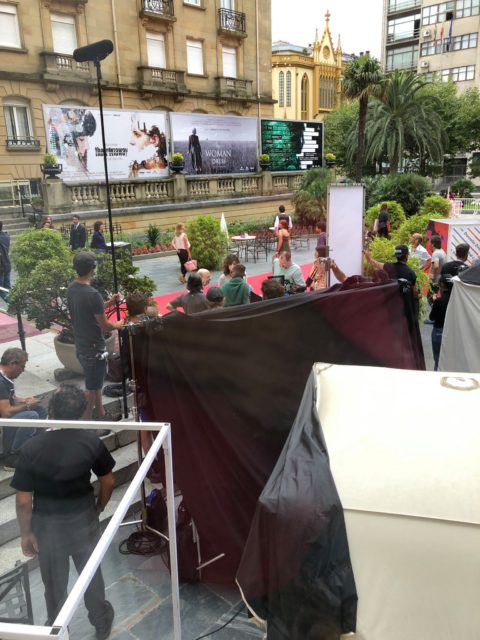 Woody Allen Web on Facebook has collected lots of great pictures.
When will it come out?
It is set to be released in 2020. European distribution is set through Mediapro, who are funding the film. They has massive success with Allen with Midnight In Paris and Vicky Cristina Barcelona. It remains to be seen if the film will get a US release.
It would seem crazy for the film to not play at the next San Sebastián Film Festival in 2020. But that's in September and Allen films tend to open earlier in the year.
We are bound to find out more about the film next year!