We are deep into the Awards season, and Blue Jasmine, and Cate Blanchett in particular, are looking to pick up significant awards. Here's our round-up of various award bits.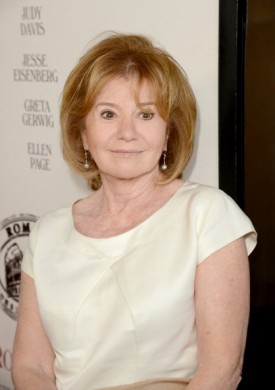 Deadline has a fresh interview with Letty Aronson, Woody Allen's long time producer and sister. They discuss awards, and plenty of insights into how Allen works.
AwardsLine: Has it gotten any easier to finance the films you produce, especially considering the strength of Woody Allen as a brand?

Letty Aronson: Not really. (Laughs.) Except for independent financiers in this country, we get no money from any studio, not even a discussion. After all the hullabaloo of Midnight In Paris, I didn't get one call from any studio. But I can understand that because they don't work the way we work. In going out and looking for money, I tell people right up front: They can't read the script; they don't have input into the cast; they don't see dailies; they don't see a rough cut. They're really investing in Woody and his reputation. They're not going to make hundreds of millions of dollars, either. We're low risk, low reward. The studios don't work that way, but in Europe, there's never been a studio system. It's really always been independent financiers. So it's easier to go there (with) all these different rules and get money. We don't want to spend a lot on the films because we would like to pay our investors back. For some, we put together a three-picture deal. If we don't know the people, I don't love putting together a three-picture deal because who knows if we'll like working with them after the first picture? But it's not any easier. A film like 'Blue Jasmine', which got the most spectacular reviews, is up to almost $34 million in this country. Now another film without Woody's name on it that got those kind of reviews would earn three times that much.
That last line we find particularly interesting. Read more at Deadline.
BAFTA (British Academy Of Film And Television Arts) nominations are out. 'Blue Jasmine' has scored three nods – Best Actress for Blanchett, Best Supporting Actress for Sally Hawkins and Best Screenplay for Woody Allen. The ceremony will be held Sunday 16 February, at the Royal Opera House and hosted by Stephen Fry.
Three other Allen alum have been nominated. Leonardo DiCaprio (Celebrity), Chiwetel Ejiofor (Melinda And Melinda) battle out for Best Actor, whilst Julia Roberts (Everyone Says I Love You) is up for Best Supporting Actress.
Woody Allen's has earned BAFTAs for his actresses before. In the Leading Role category, Diane Keaton won for Annie Hall. In a Supporting Role, Penelope Cruz won Vicky Cristina Barcelona and Geraldine Page won for Interiors. Allen himself has won for Best Direction for Hannah And Her Sisters and 'Annie Hall'. He also won for Best Original Screenplay for Broadway Danny Rose, The Purple Rose Of Cairo, 'Hannah And Her Sisters' and Husbands And Wives. Adding 'Blue Jasmine' makes Allen the record holder for most nominations in any category.
Blanchett won the National Society Of Film Critics Award for Best Actress. A full rundown at the Hollywood Reporter. It is the second time that the Best Actress Award went to someone in a Woody Allen film – the first being Diane Keaton in 1977.
Blanchett also attended the New York Film Critics Circle Awards. The winners were announced in December, but the ceremony itself was at the Edison Ballroom on 6th January 2014. Blanchett was snapped with 'Blue Jasmine' co-star Sally Hawkins, as well as Jared Leto and the winner of Best Actor, Robert Redford.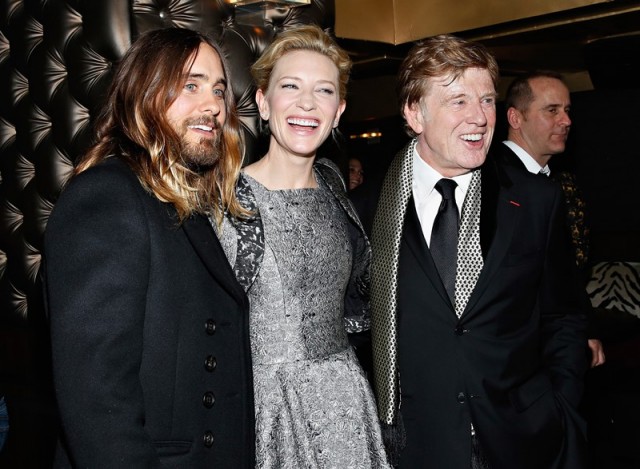 However, there was no love for Woody Allen at the Director's Guild Of America Awards. JoBlo has a rundown. There had to be one…
Finally, don't forget to watch the Golden Globes on 12 January 2014. Diane Keaton will be accepting the Cecil B DeMille Award, and Blanchett and Hawkins are up for awards.