Woody Allen is wrapping up his third week in a row on location in San Francisco, filming his next, still untitled feature. We have more photos, a glimpse of Bobby Cannavale, and little bit more information on Sally Hawkins' character, and plenty of Soon Yi-Previn spotting.
These past few days saw production continue at various spots around San Francisco. Further filming continued at the Lexington St apartment. Production then moved to Casa Lucas Markets on 24th Street and Florida. The filming also moved to Gaspare's Pizza House. Finally the cast and crew (including Cate Blanchett) returned to South Park, where they first filmed almost three weeks ago.
Actor Bobby Cannavale was spotted for the first time. Cannavale also stopped at La Victoria Bakery and took a photo with a member of staff.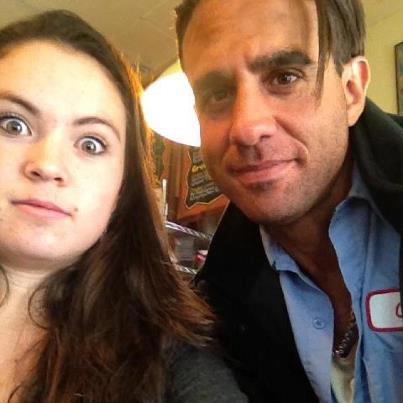 Woody Allen and Soon-Yi Previn have also been spotted around town at various times, most recently in Russian Hill and at Nettie's Crab Shack on Union St. Possibly the strangest, most stalker-ish piece came from ABC news San Fran. They followed Allen around and waited for him at a cafe.
Ah, network news. Look at all the folks with cameras. No wonder we get so many great shots! The video is in Flash. Check out the original article at ABClocal.
Finally, SF Gate has managed to discover Sally Hawkin's character is named 'Ginger'. She is the free spirited sister of Cate Blanchett's character, who's moved from New York to San Fran. Ginger lives a free spirited life in the Mission, and it takes Blanchett's character some adjusting from her New York ways.
Filming continues in San Francisco until the end of the month. Expect plenty more updates and any news to be covered by us!