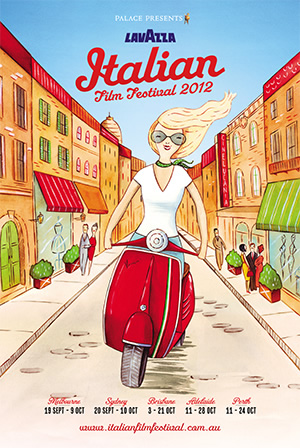 To Rome With Love, the latest film by Woody Allen, will premiere in Australia as part of the Lavazza Italian Film Festival. The festival runs from September til October in all five Australian capital cities. In Sydney and Melbourne, 'To Rome With Love' will be the special closing night feature.
The Lavazza Italian Film Festival is the largest Italian film festival outside of Italy, and is now in it's 11th year. 'To Rome With Love' is one of thirty films featured this year. The festival runs in different days in different cities, but the times and dates for …Rome are:
Brisbane – Sunday 7th October 2012
Palace Barracks – 4pm
Palace Centro – 5.30pm for 6.00pm
Melbourne – Tuesday 9th October 2012
Palace Cinema Como – 6:15pm for 7pm
Palace Balwyn – 5:50pm for 6:35pm
Brighton Bay – 6.45pm for 7.15pm
Kino Cinemas – 5.30pm for 6.15pm
Palace Westgarth – 7.45pm for 8.30pm
Sydney – Wednesday 10th October 2012
Palace Norton Street – 6.15pm for 7.00pm
Palace Verona – 6.15pm for 7.00pm
Chauvel Cinema – 7.00pm for 7.30pm
Adelaide – Sunday 14th October 2012
Palace Nova Eastend – 6:30 & 7pm
Perth – Sunday 14th October 2012
Cinema Paradiso – 6.00pm for 6.30pm
Luna on SX – 6:30pm
Full ticket details are available at the Italian Film Festival ticket page. A majority of the screenings will be at Palace cinemas, and tickets are available on their site.
This announcement finally ends the long wait Australian audiences have had for this Woody Allen's latest. Hopefully it will lead to a wider release sooner rather than later.
Find out more at the Italian Film Festival website.