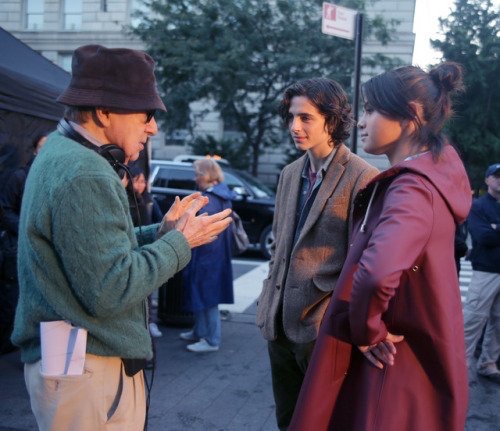 Production continues on Woody Allen's 2018 Film, taking place in New York City. In the last few days we saw stars Selena Gomez and Timothée Chalamet back at the Met Museum in New York.
We know the cast filmed inside, in the same outfits we saw a couple of weeks ago. The same outfits (and name tags), we saw the two of them exiting on the steps. Filming took place on the 3rd and 4th. Daily Mail had pics.
There was some filming earlier in the week at Kaufman Astoria Studios in Queens, the biggest studio in the New York area. Other filming took place on 37th Street, between 9th and 10th, 32nd Street, between 6th and 7th and in front of the Bowery Hotel. No one was spotted, so we assume interior shooting.
Chalamet and Gomez were the only stars spotted in the last few days. And even they haven't been that busy, with both attending various events at night, including the New York Film Festival, currently running and where Allen's next film Wonder Wheel will premiere.
Elle Fanning is actually hopping around the globe. Whilst at the Miu Miu fashion show, she spoke to WWD about the current production.
It's very fun, we're having a really good time. [Allen] is so secretive about the project so I don't want to say too much, I don't want to get into trouble, but it is set in New York, we're filming everything in New York.
We also want to hazard a guess that the film is the project Allen has called A Rainy Day In New York. It is a script Allen wrote 15 years ago and put aside, and had considered for his Amazon TV series. We are basing this on two things – there seems to be a lot of rain in the production and the lack of costume changes makes us wonder if everything is set in one day.
But hey, that's just a guess.
Filming continues in New York, we hear until the end of October. Although the premiere of Wonder Wheel on the 14th might lead to a small break. We shall see.